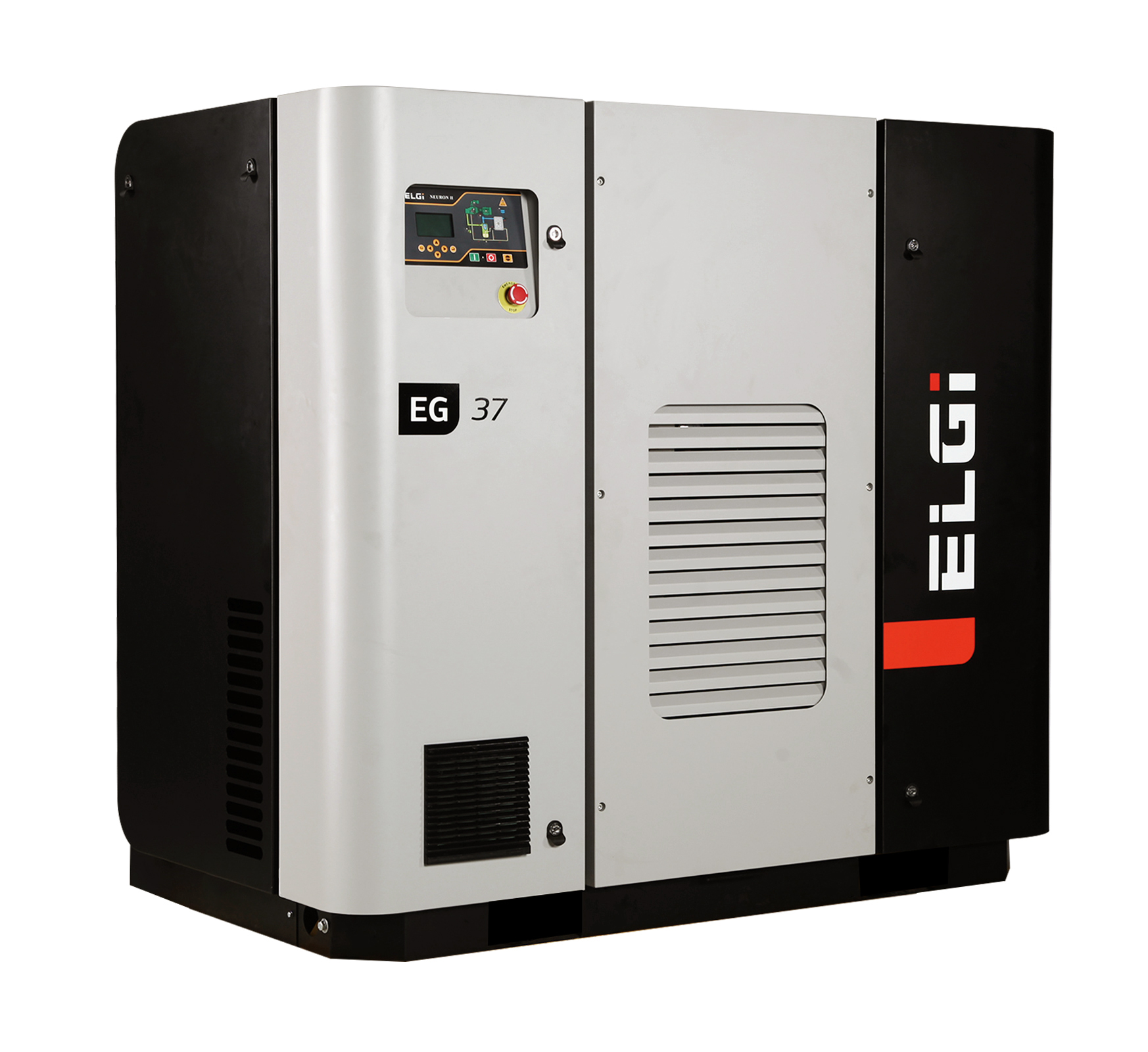 A New Spin
ELGi's Air Audits Save Millions for Indian Textile Mills.
Since 2011, at ELGi, our team of experts has conducted over 250 air audits and proposed savings worth Rs. 62.51 crores for our customers. With a specific focus on the textile industry in India, we have completed 135 air audits and gained valuable insights in the efficient management of compressed air in an operation.
But what exactly is an air audit? Simply put, an air audit is a thorough examination of the usage of compressed air in an operation; followed by actionable inferences that could help realize energy savings for a company. Air audits identify energy saving opportunities from better compressor selection, improved line design, arresting leaks, and optimizing usage.
Air audits can be conducted by compressor manufacturers as well as independent air audit experts. While methods vary, an air audit expert will use flow meters, power analyzers, water flow meters, digital pressure gauges, anemometers, infrared thermometers and condition monitoring equipment to evaluate an operation's air usage.
Following the analysis, the team submits a report with a summary of potential savings along with recommended changes and associated costs. Typically, they will spend sufficient time to gain a representative understanding of varying demand conditions. Following the analysis, they will issue a report with a summary of the potential savings along with the recommended changes and associated costs to realize the savings.
Some common problems the team encounters are incorrect compressor size, inadequate air distribution, incorrect positioning of downstream accessories and air receivers, and poor regulation of pressure.
While compressor selection, line design, and line monitoring have been discussed, air auditors will also review the nature of use. For instance, operators in compressed air intensive operations such as textiles will often use a higher than required pressure to operate their machinery. An air auditor might test these machines at lower pressures, and if there is no disruption, the mill operators can continue to operate at a lower pressure, thereby enjoying energy savings. In addition, an air auditor may also recommend against using compressors for energy-wasting applications such as cleaning.
ELGi's expert air audits in the Indian textile industry have achieved tremendous results in terms of energy savings and efficiency. The following graphs summarize the air audit reports for five leading textile mills in India along with the savings accrued.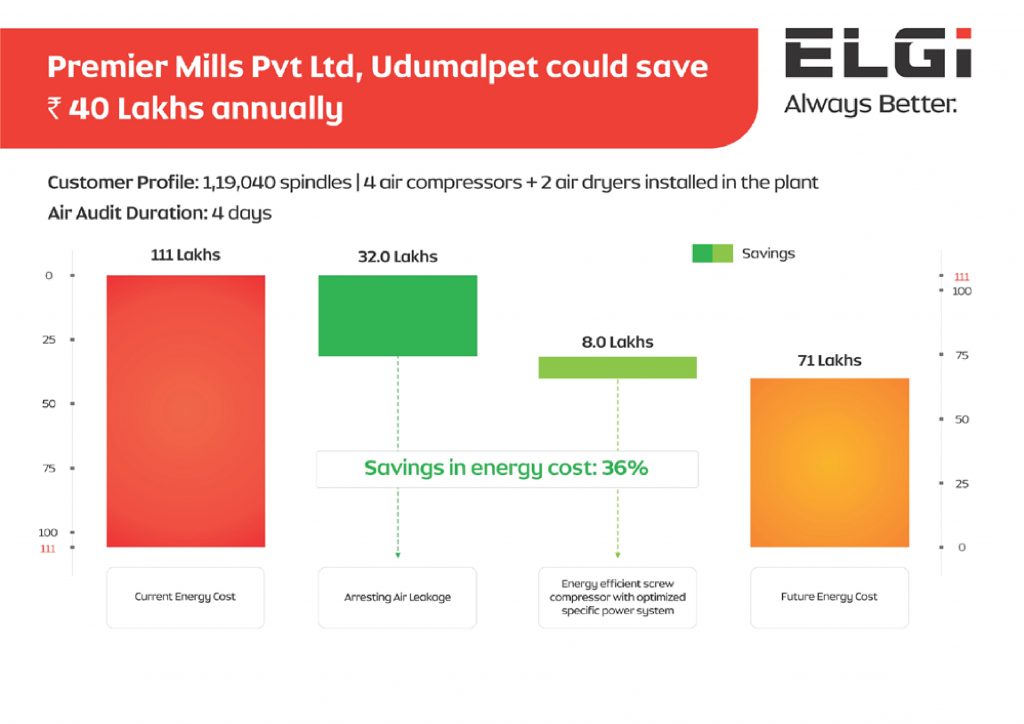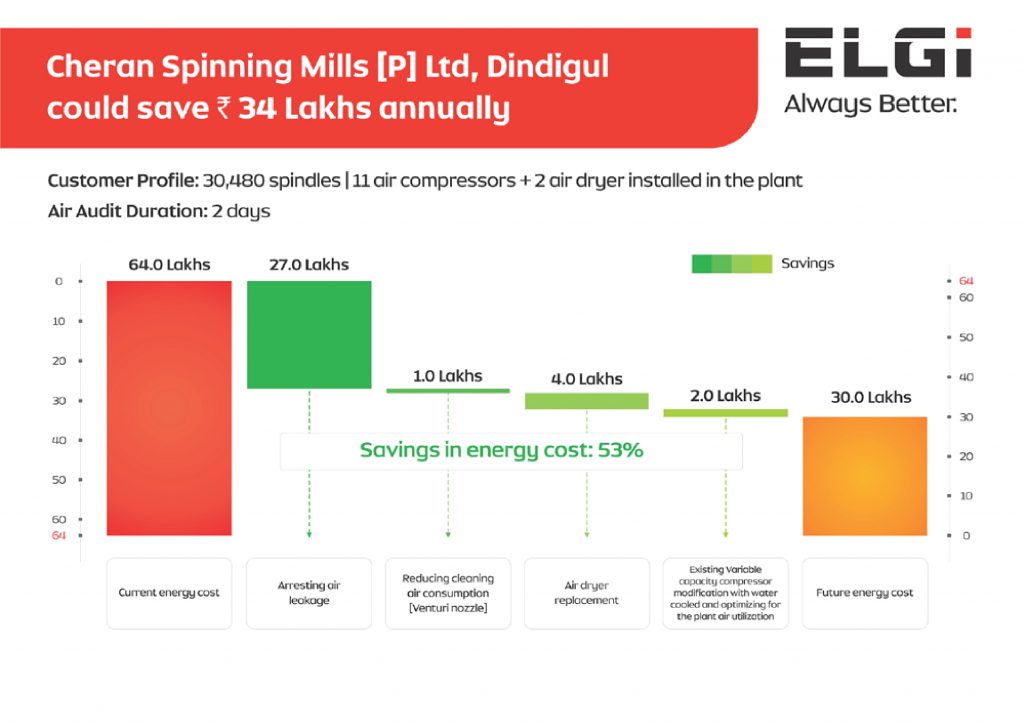 At ELGi, our decades of experience in the air compressor business has imparted us unparalleled expertise and knowledge to get the best out of your compressed air system. Request your air audit now and enjoy energy savings like never before. Contact [email protected] or call 9790040668
Sources:
Indian Textile Magazine
http://emagazine.indiantextilemagazine.in/31651/01_02_2018#page/72
To contribute write to us at

[email protected]