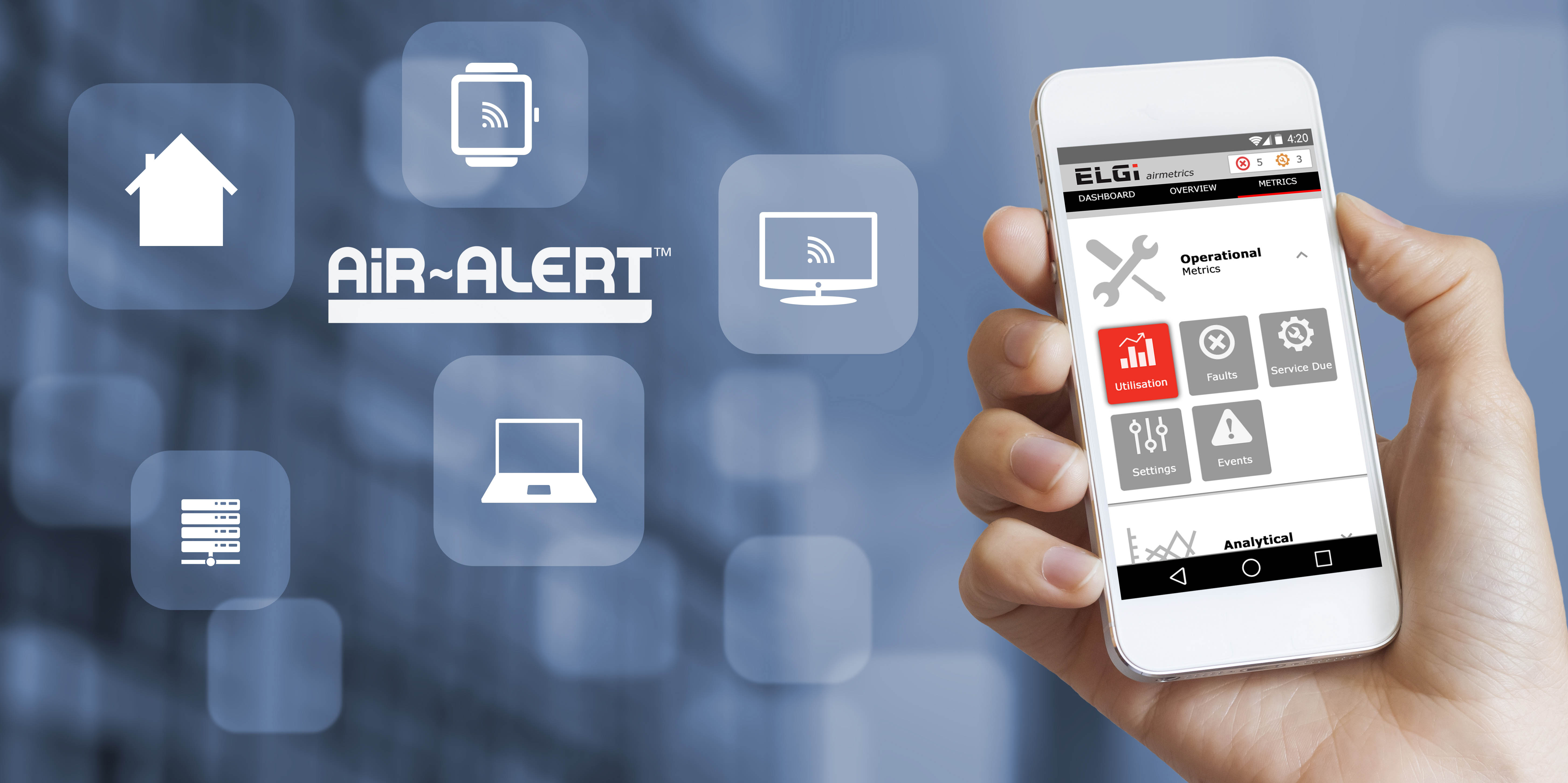 Hundreds of thousands of industry man-hours are wasted every year due to equipment failure related downtime. At ELGi, we're constantly working to find ways to minimize downtime and maximize efficiency for our valued industry clients. One of the advances in that direction comes from our research in IoT applications to improve overall air compressor performance across sectors. IoT or the Internet of things facilitates communication between machines situated in remote locations. The Air-Alert is an IoT enabled device that communicates compressor performance data to ELGi servers. It sends critical information of the operational, analytical and strategic kind to dedicated ELGi servers allowing us to prevent equipment failure. Our aim is to predict equipment failure with increasingly high accuracy so as to bring the accidental downtime to approximately zero.
To achieve this goal, Air-Alert is industry fitted as well as retrofitted in ELGi air compressors free of cost with SIM-based communication systems that convey operational data like usage, uptime, running hours and more. In addition to this, it also sends analytical data like usage report, health report and a virtual logbook. Furthermore, it provides strategic feedback such as proactive failure alert and energy optimization recommendations. This is made possible by our cutting-edge failure prediction models based on a combination of fundamental science, industry and product experience and a well-researched statistical approach. This data can be easily accessed through our web based PC interface and the smartphone app.

Our engineers review this data to mine the most meaningful data-driven conclusions and recommendations for your equipment health and downtime reduction. Another way Air-Alert reduces downtime to essentially zero is by speeding up after-sales services immensely as the compressor performance data is now transmitted in real time. The data collected through Air-Alert will also be instrumental in product development. The insights gained by the continuous stream of real-time performance information of our air compressor units will help us design better machines in the future to better serve our client's industry needs.
Further elaborating on the Air-Alert, Head of Marketing and Corporate Communications Mr. Anvar Jay Varadaraj said: "The showcase of our Air Alert system is a significant step in our efforts to be more customer-centric and data-driven as we seek to provide the most efficient compressed air solutions.  Gathering data is easy, but analyzing the data and providing meaningful insights to customers will set us apart.  As a quality and innovation centric organization, Air Alert will play a key role in our product development processes.  The system will provide us objective data on our products' performance in the field making it a valuable tool for our quality and product development processes.  Fundamentally, Air Alert is about elevating our customer service and by providing it free of cost, we will emphasize our Always Better brand promise to our customers."
Air-Alert has been tested in a large variety of industries and has proven efficacious in a spectrum of real life challenges. In the case of a pipe company, the ELGi team collated Air-Alert data and the resulting recommendations contributed to 40% energy savings. In the case of a textile company Air-Alert recorded an abnormal pressure reading that helped us identify a choked air-filter.
As Managing Director, Dr. Jairam Varadaraj said earlier in the year, ELGi is determined to become the world's second largest player in air compressors and is already industry 4.0 ready. We're at the razor's edge of innovation in air compressor technology. Air-Alert is our latest offering, in a series of many that adds to the world renowned track record of our compressed air solutions.
To contribute write to us at

[email protected]