A sterile environment is essential in the pharmaceutical industry, demanding the highest quality standards always. Manifold rise in public healthcare spending, rising patient awareness, expanding insurance coverage across the income pyramid and the emergence of new hospital formats, have contributed to a period of bloom in the pharma sector, globally.
However, with increased supervision, global pharmaceutical markets are also amidst major discontinuities; providing opportunities for emerging markets in the coming decade.
The Indian pharmaceuticals market, along with the markets of China, Brazil and Russia, will spearhead growth within these markets.
What are the quality standards in compressed air?
The International Organization for Standardization (ISO) publishes the standard for compressed air quality, globally. This standard, ISO 8573:2010 is commonly used for compressed air applications.
In the absence of specified standards governing compressed air quality testing in the manufacturing process or production of pharmaceutical, medical devices, and food applications, it is often best to use site-specific testing programs. Direct Product Contact, Indirect Product Contact, USP and ISO 8573 air standards can be considered reference points for testing.
A routine testing schedule for your compressed air quality program should provide the appropriate verification and compliance each facility will need.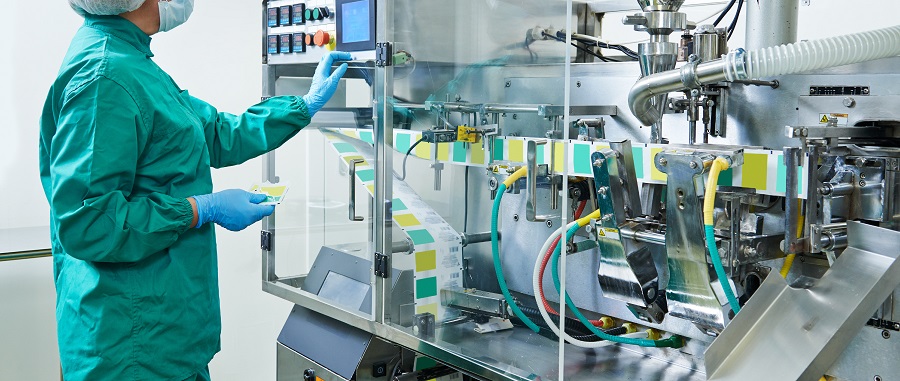 What are the applications of compressed air in the pharmaceutical industry?
Oil-free compressed air is crucial in powering the following applications:
Bottling and Packaging
Medicines are packaged in multiple ways. Bottles, lightweight plastic containers, cartons, blister packs, etc. Depending on the nature of the manufacturing need, compressed air is utilised to clean and remove moisture from these packages.
Capsule and Tablet Manufacturing
Compressed air meets almost every need in the manufacturing process. From mixing, hardening and granulation to drying, pressing, coating and packaging.
Fermentation
Compressed air helps aerate the fermenters with sterile air.
Instrumentation Air
Tools used in the manufacturing processes need to be pure and oil-free, compressed air helps fuel these tools.
Drying.
Vacuum pumps are used to evaporate liquids from the solids, in the process of drying medicines to remove any solvents or water from the product.
Wastewater Treatment.
To prevent contamination of the product, water must be treated at various stages- before and after the manufacturing. Blowers are generally used to treat wastewater.
Fluid filling machines
Fluid pumps are used to move liquid products in the production and filling process.
Oil-free compressed air
There is a growing industrial need for compressed air free of oil in the manufacturing process. While an oil flooded screw compressor will satisfy multi-stage filtration, oil-free compressors are ideal- owing to the hassle of pressure drops and added maintenance, stemming from filter equipped lubricated compressors.
Oil free screw compressors are used extensively without any contact with oil.
The air cooler removes the heat from the compression chamber. Without oil, the rotors rotate at high speeds to get volumetric efficiencies equivalent to oil injected screw compressors. Timing gears synchronise rotor rotation to ensure no contact. A separate lubrication system lubricates the timing gears. This calls for an efficient sealing system to prevent the entry of lubricating oil into the compression chamber.
ELGi's oil-free rotors employ a two-layer non-metallic coating and coating process to preserve the rotors. This comprises PTFE + PFA((Poly Tetra Fluoro Ethylene + Per Fluoro Alkoxy), with PTFE on the first layer and PFA on the top.
PFA has layering and formation properties which ensure homogeneous coating and avoid the formation of pin holes. This in turn enhances the coating reliability and provides highly efficient corrosion protection. In addition; the coating serves as a dry lubricant. The coating's food and medical grade certification ensures its safety for pharmaceutical applications. Though there is no oil injected into the compression chamber, the timing gears and bearings need lubrication which is taken care of by a separate lubrication system. The oil used for this purpose needs to be prevented from entering the compression chamber.
ELGI employs an efficient internally designed sealing system comprising of floating carbon seal and viscose on each rotor to prevent the oil from entering the compression chamber. These seals are non-contact seals and their reliability is significantly higher than any contact seals; hence ensuring continuous clean air supply.
With a visible shift in acceptance of oil free equipment, ELGi will continue to support sustainable initiatives with innovation and design contributing towards cost and efficiency. Data will serve as a key enabler in the process, where compressor suppliers and manufacturers partner to eliminate quality concerns.
At ELGi, we know that compressors must be dependable, to prevent unwanted downtime loses in repair and misses in maintenance can have a significant impact on the company's business. For manufacturers in the pharma industry, it is essential to have reliable compressed air systems for profitable production lines. ELGi keeps this in mind while building its compressed air solutions. Explore the range of ELGi's oil-free air compressors https://www.elgi.com/oil-free-compressors/
To contribute write to us at

[email protected]