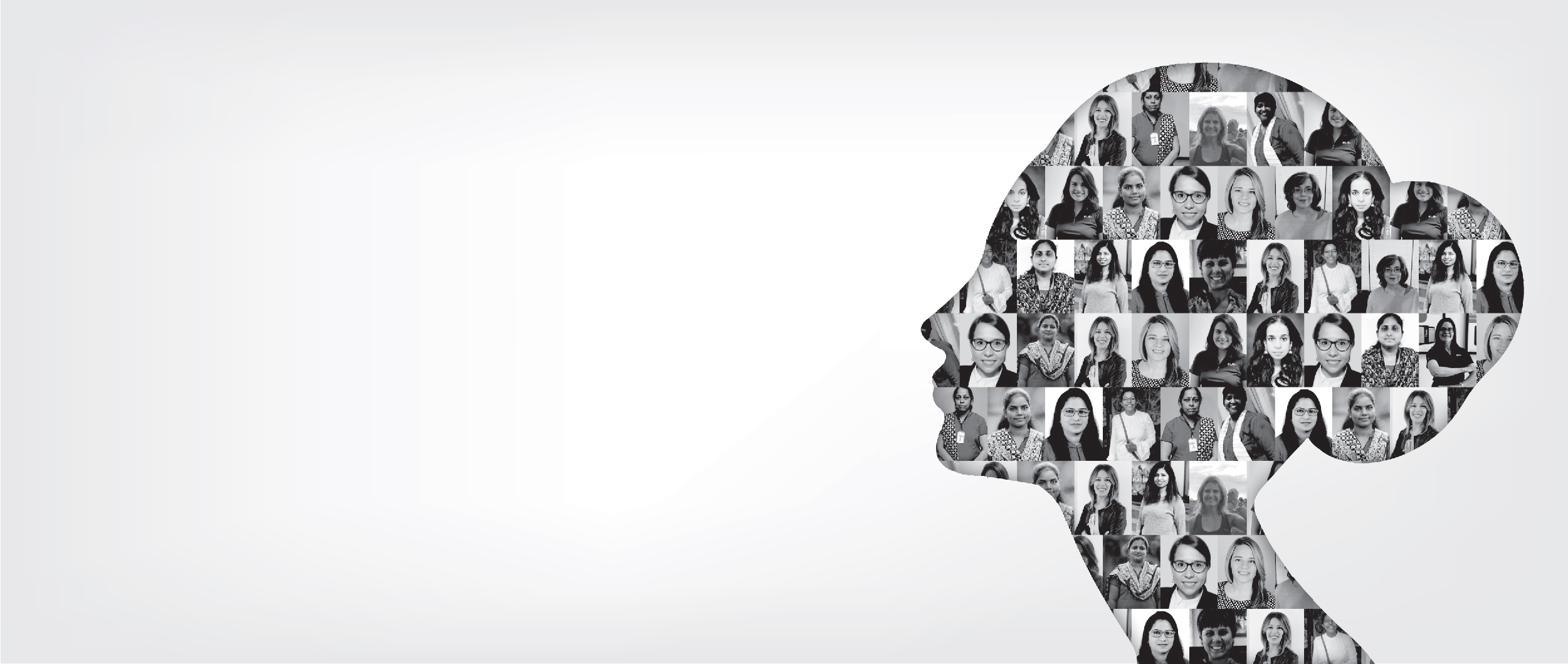 'An equal world is an enabled world' and at ELGi, we're building a gender equal environment, valuing diverse perspective, experiences and background; all, while gaining a competitive edge.
#EachforEqual at ELGi
From the early 1900s communities have made significant progress in addressing gender equality, building diversity and empowering women across job functions and industries. Business should never be about gender, but about professionalism and ability.
But while the gender gap still very much exists, studies show that a critical mass of female leaders at all levels, across an organization, drives revenue and creates a distinct competitive advantage.
This International Women's Day we're reflecting on progress made and celebrating the courage, perseverance, talent and determination of ordinary women with extraordinary goals.
Here are 18 stories of some of the talented, inspirational women at ELGi, who drive change every day. They've sought out challenge, found motivation in purpose, taken risks and broken boundaries .
Because the #WomenAtELGi make us #AlwaysBetter.
My role focuses on the IT project management on the ERP & PLM domain.
The manufacturing industry is no different from any other industry. The men may outnumber the women in this industry, but the opportunities are the same both for men and women. That's one of the reasons why ELGi has introduced the apprentice training, for boys and girls, alike.
In fact, you can learn about the complete business organization and its nuances, in a manufacturing industry even as a woman. The opportunity ELGi provides to perform, both professionally and in our areas of interest, are plenty and hence ELGi has been #AlwaysBetter."
"I have been working with ELGi for the past 8 years and I love my job!
Since Rotair became part of ELGi, women became a strongly connected part of the work environment and the number of women employed almost doubled. This is rewarding and satisfying for our company and for the Group.
Women are endowed with important characteristics, from intuition to capacity to listen, and in ELGi they have the opportunity to enter as an effective part of the team with the consciousness that a career is possible, that the opportunity exists in real!
At ELGi, every day I learn something new. Every day I am given the opportunity to grow as a human being and at the same time to improve constantly, to discover aspects of myself that I didn't think existed!
At ELGi, I feel part of a whole that brings forward a common objective, and this is highly gratifying.
And that's what makes working at ELGi #AlwaysBetter."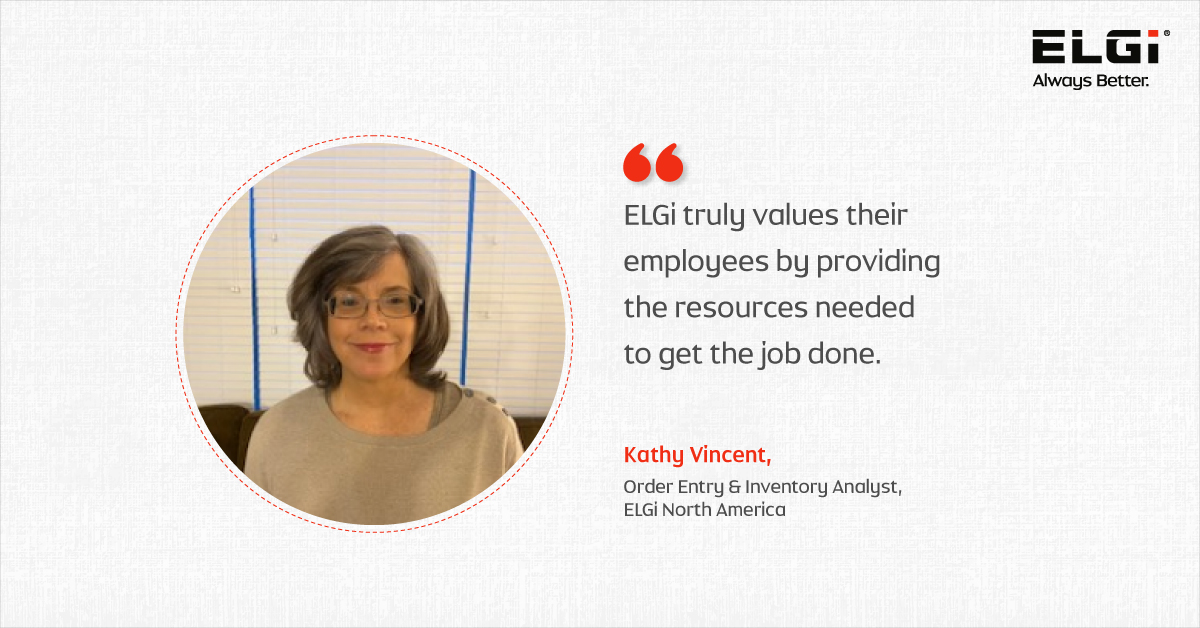 "My message to women in the workplace is to be open to change & to stay focused on all aspects of business within the facility, because there is so much to learn in a manufacturing role.
Since the beginning, I have always believed ELGi truly values their employees by providing the resources needed to get the job done."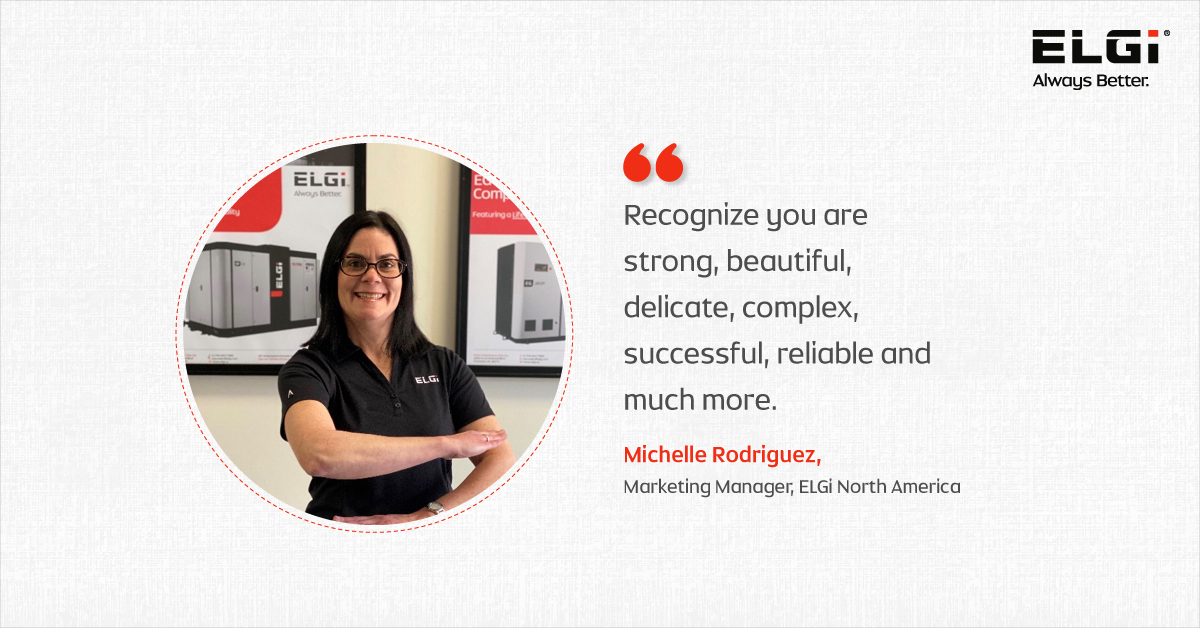 "To all my female ELGi colleagues around the world and women considering a career in the manufacturing industry, recognize you are strong, beautiful, delicate, complex, successful, and reliable and much more. Remember, the world is so much better with you in it.
It is #AlwaysBetter to work for an organization that recognizes you, that celebrates you and makes you feel better. #EachforEqual"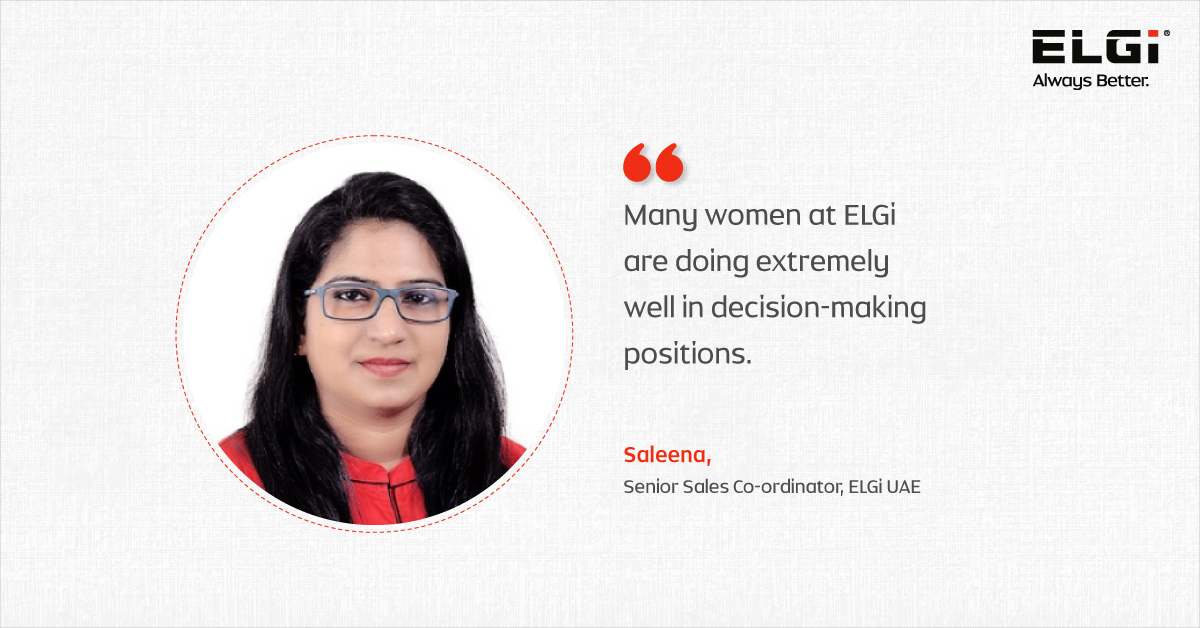 "My role requires me to process orders, build partnerships with major organizations in UAE and help with payment follow ups. I also coordinate events for ELGi and am a part of the ELGi Ambassadors group.
In my 10 months at the organization, I have had a fun ride so far! Though any manufacturing industry is predominantly male dominated, I have seen many women at ELGi doing extremely well in decision-making positions. Every woman is given an opportunity to prove her worth and calibre. The work culture promotes collaboration and encourages us to be #AlwaysBetter."
"The manufacturing industry is fun, ever changing and will keep you on your toes! It is definitely a male dominated industry, but don't let that steer you away. Be confident in yourself and know that the knowledge and skills you bring to the table matter!
It's #AlwaysBetter working with a company that wants to see you succeed. I work with an incredible, supportive team that challenges me every day to be better in the work I do."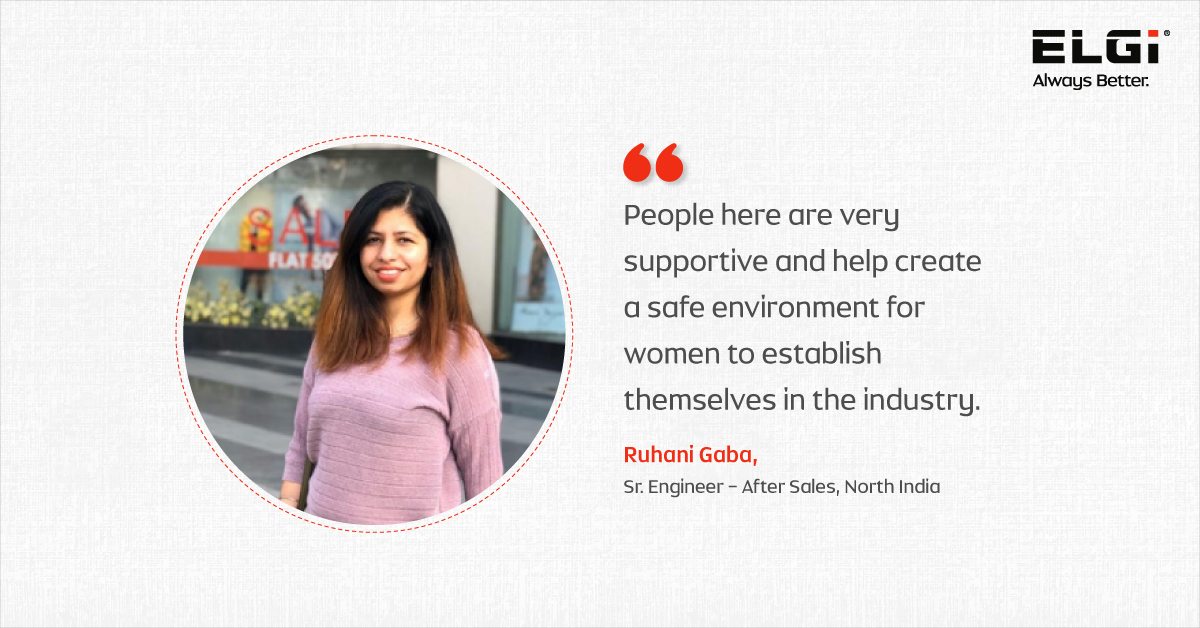 "I work in the After Sales (spares) department of the North region as a Resident Engineer based in Ludhiana. The major area of operation I look after is Punjab, J&K, Chandigarh and Himachal Pradesh.
The manufacturing sector is a challenging area of operation for any gender. It not only involves mental strength and emotional intelligence but also deals with your physical capabilities. It helps you project a strong personality which is very important in today's corporate world for any woman to survive, improve and reach beyond their goals. Working in the manufacturing industry makes me feel unique and different from others.
ELGi, being my first organisation, has always given me the opportunity to challenge myself and test my limits. There have been moments of self-doubt, but at the end the organization and my colleagues have always helped me emerge as an accomplished and strong individual. People here are very supportive and help create a safe environment for other women to learn more about themselves and establish themselves in the industry."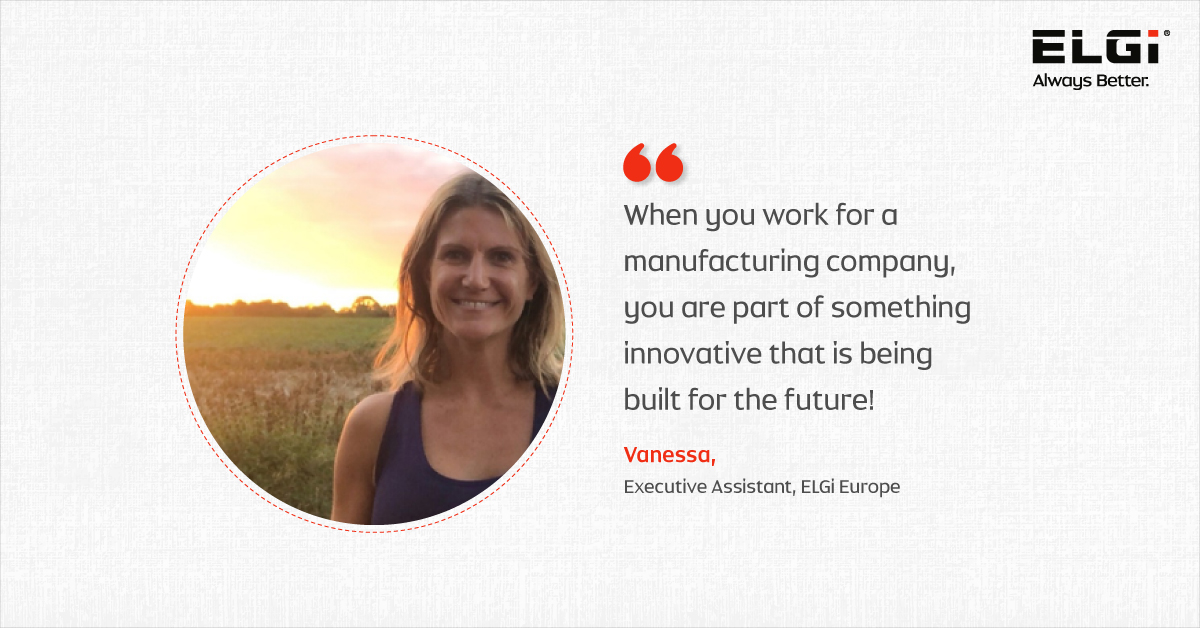 "I'm Vanessa and I work for ELGi Europe as the Executive Assistant to Chris Ringlstetter, President Europe, but I'm also managing our new great office here in Waterloo being the European Headquarters for ELGi.
When you work for a manufacturing company, you are a part of something innovative that is being built for the future.
Every day is challenging with lots of new learnings, motivating me to be #AlwaysBetter."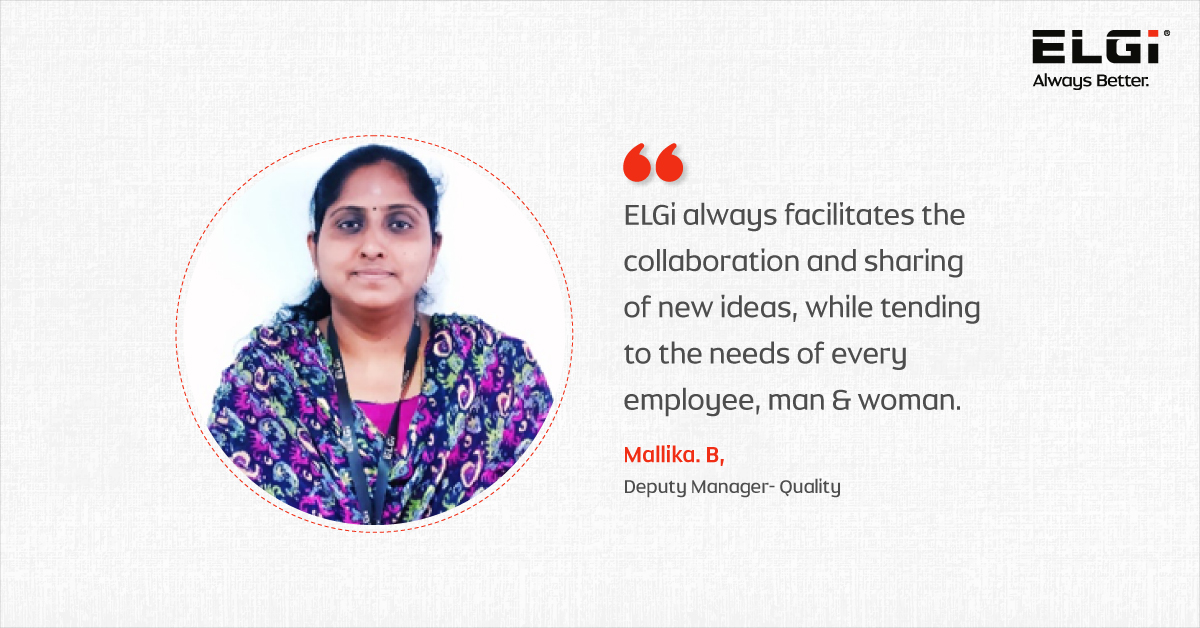 "My job is to ensure every product undergoes the right measurement through the usage of accurate and precise measuring equipment, resulting in variation reduction.
ELGi provides a challenging atmosphere for those who are passionate about manufacturing. It is a great platform to hone your technical competencies and learn new techniques and ideas daily!
There are opportunities for women in every field, from IT and accounts to marketing.
ELGi always facilitates the collaboration and sharing of new ideas, while tending to the needs of every employee, man and woman from improving competency to employee health, safety and team & family gatherings. The company also helps you fulfill your passion towards sports, books, fitness and more! I am a happy ELGian"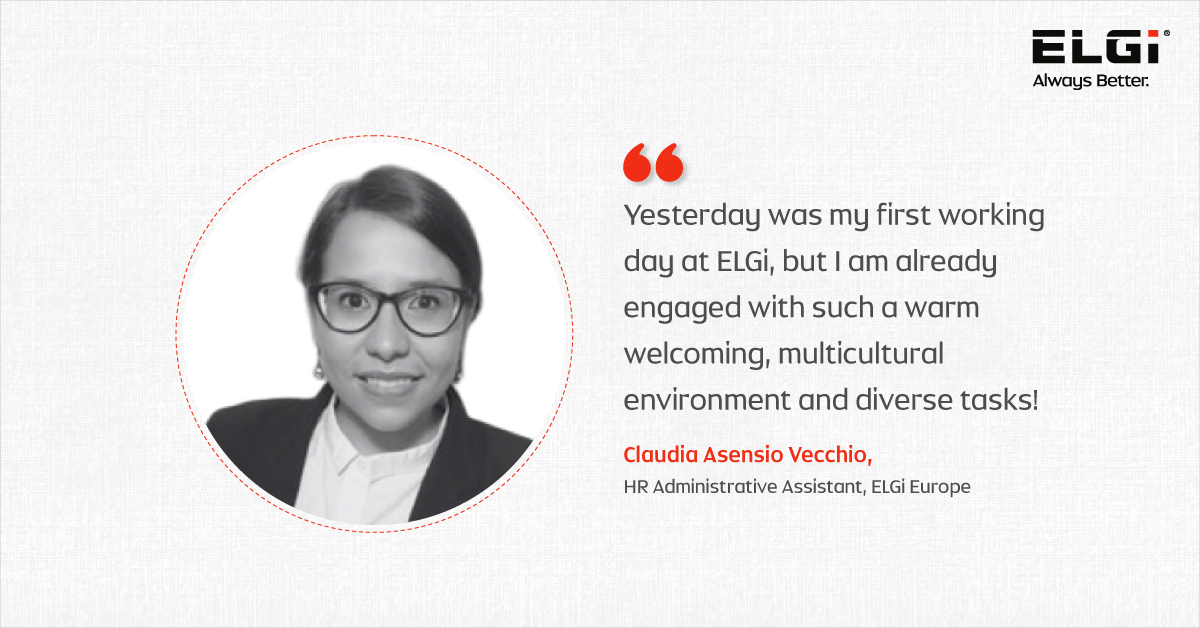 "My advice to women seeking opportunities in manufacturing is- If you feel attracted to the manufacturing industry, go for it!
You will do great if you love what you do!
Yesterday was my first working day at ELGi, but I am already engaged with a warm welcoming, multicultural environment and diverse tasks!"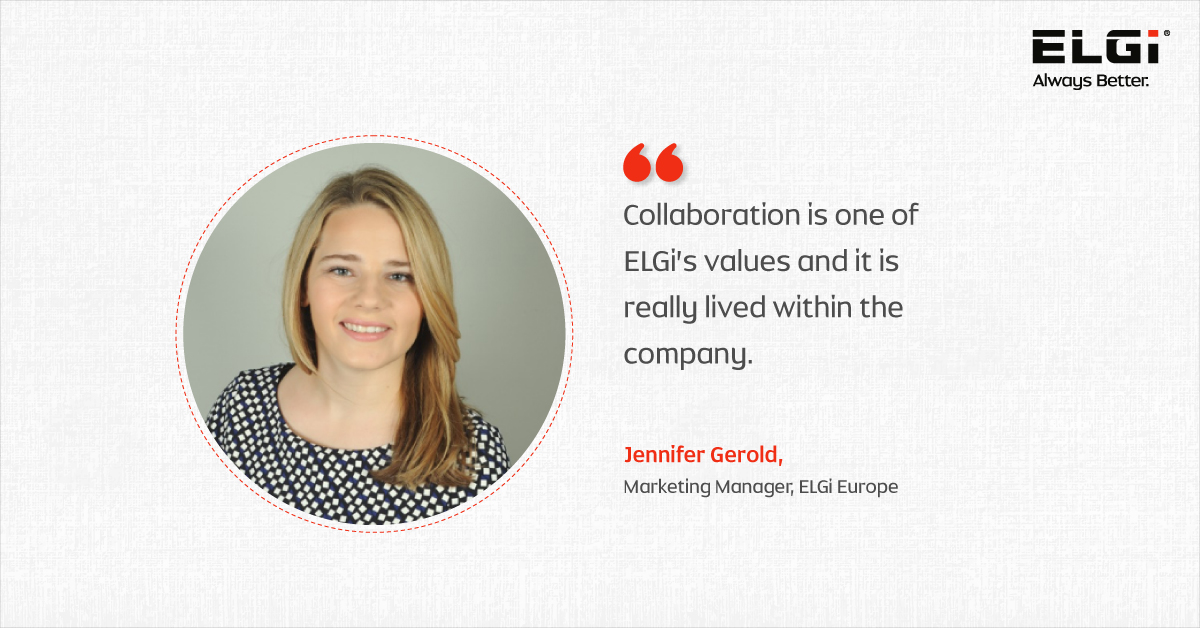 "My job role involves creating European marketing plans/budget, marketing collaterals, digital marketing, events, PR and more.
My advice to women considering an opportunity in manufacturing is – Don't be afraid of technology, it is fun!
I really appreciate the spirit of collaboration across teams and regions; collaboration is one of ELGi's values and it is really lived within the company. This makes my work #AlwaysBetter."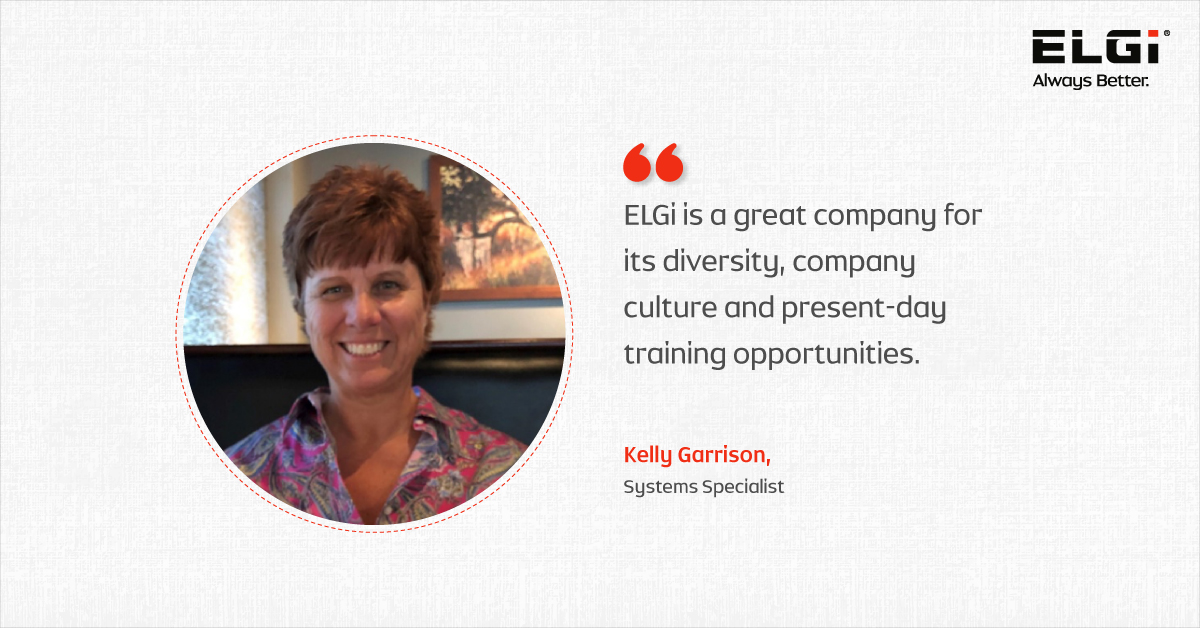 "I am a subject matter expert on the Pattons line of compressed air products and services.
"My advice to women will be to never be afraid to go into a male dominated industry. The tide is changing, and women are now in many facets of manufacturing, right from the plant floor to the executive offices. Industrial sales has many interesting opportunities and the income opportunities are based on performance.
ELGi is a great company for its diversity, company culture and present-day training opportunities."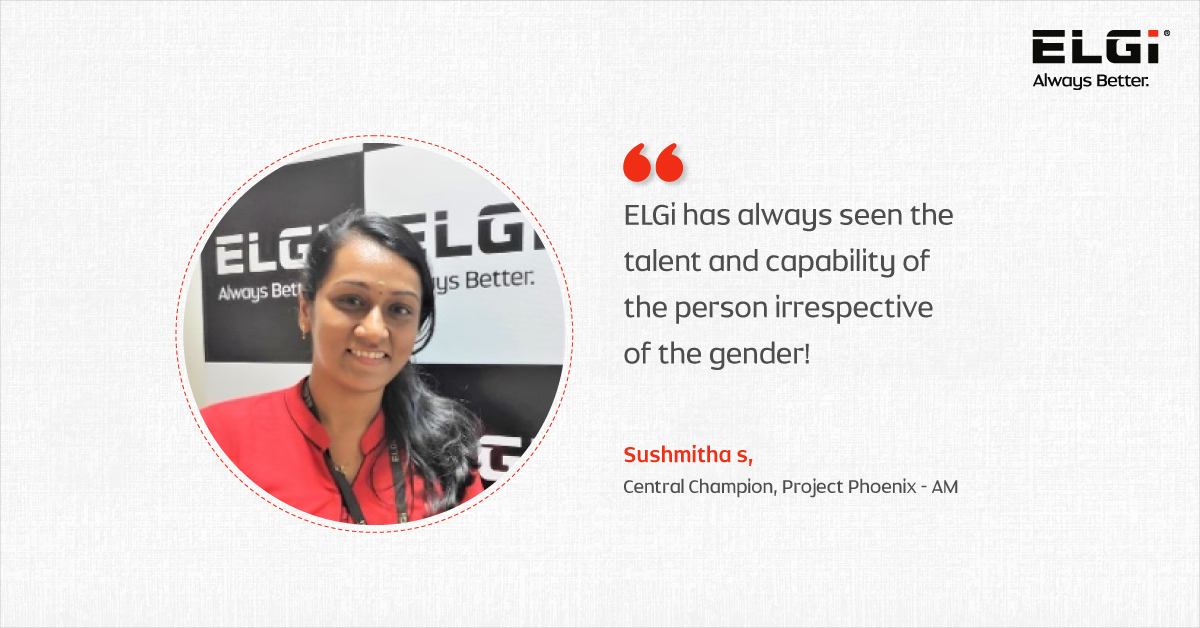 "My role at ELGi is to develop, deploy, improve and sustain GTM – Phoenix systems and processes to achieve business goals.
I have completed my B.E – Electronics and Instrumentation and always wanted to work in a core field. In my opinion, there are always enough opportunities for women employees however it is an individual capability to aim for and achieve the goal.
Although the male to female ratio is less, it can be an advantage as well for us to showcase talent and make our points loud and clear in the forum! I joined ELGi almost 2 years ago. Being a new joiner at the time, I was given a challenging role along with the freedom to share my opinion. ELGi has always seen the talent and capability of the person irrespective of the gender!"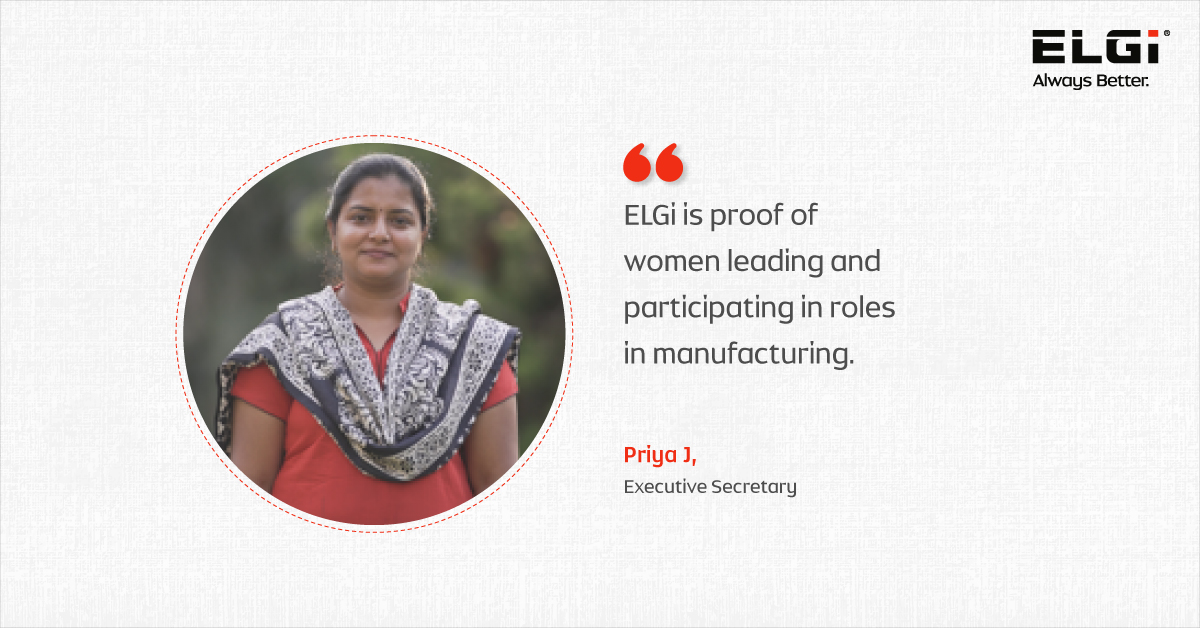 "I am Priya J, Executive secretary – Supporting high-level executives and management, provides admin support and perform sensitive duties.
I realize that women are underrepresented in the manufacturing sectors. However, manufacturing isn't only about technology or is it necessary to have a mechanical mind, rather it's all about people. A young woman who has the passion for leading teams and solving problems can also be a part of it!
It's more about having the inherent thought process and agility required to grow into a role. She can consider a career in the profession if she'll willing to experiment and has a drive to make things happen! And ELGi is proof of women leading and participating in roles in manufacturing. Every woman has the privilege to voice her opinion about anything, anytime!"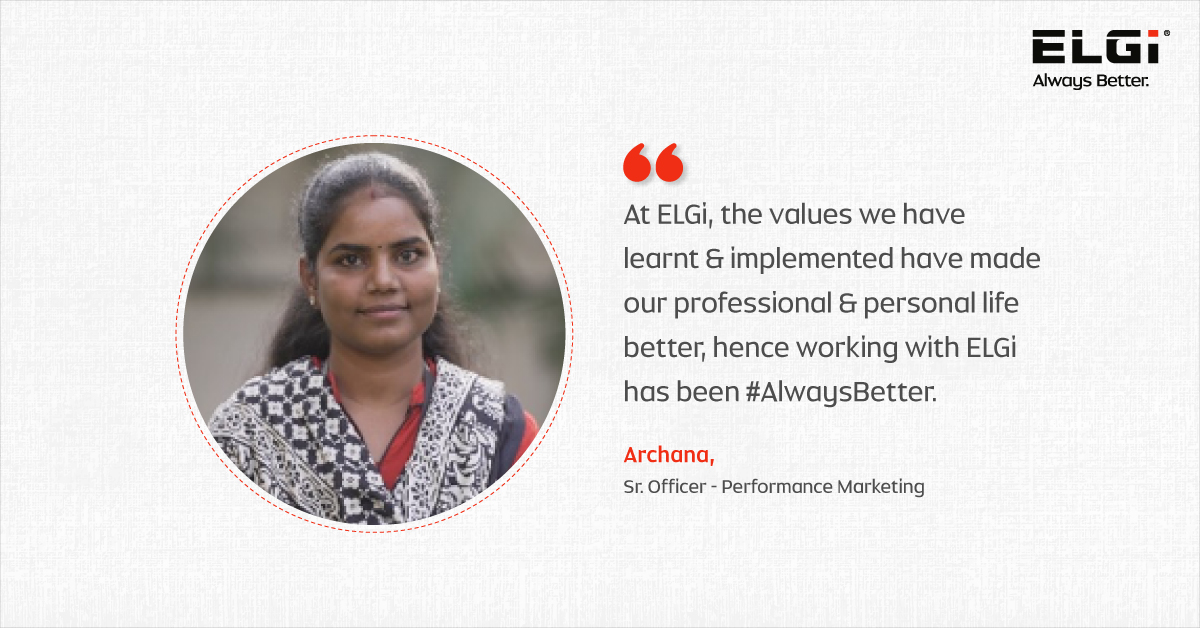 "I am Archana, Sr. Officer – Performance Marketing. My role focuses on generating valid enquiries which is converted into orders.
The manufacturing industry has a lot of scope to innovate and grow. Here, one can learn not only about their own work processes but also the nitty gritty of segments and the industry works.
It is rightly said, women are great at multi-tasking; and I encourage every woman to be keener in joining the manufacturing industry and building their careers.
At ELGi, the values we have learnt & implemented has made our professional & personal life better, hence working with ELGi has been #AlwaysBetter."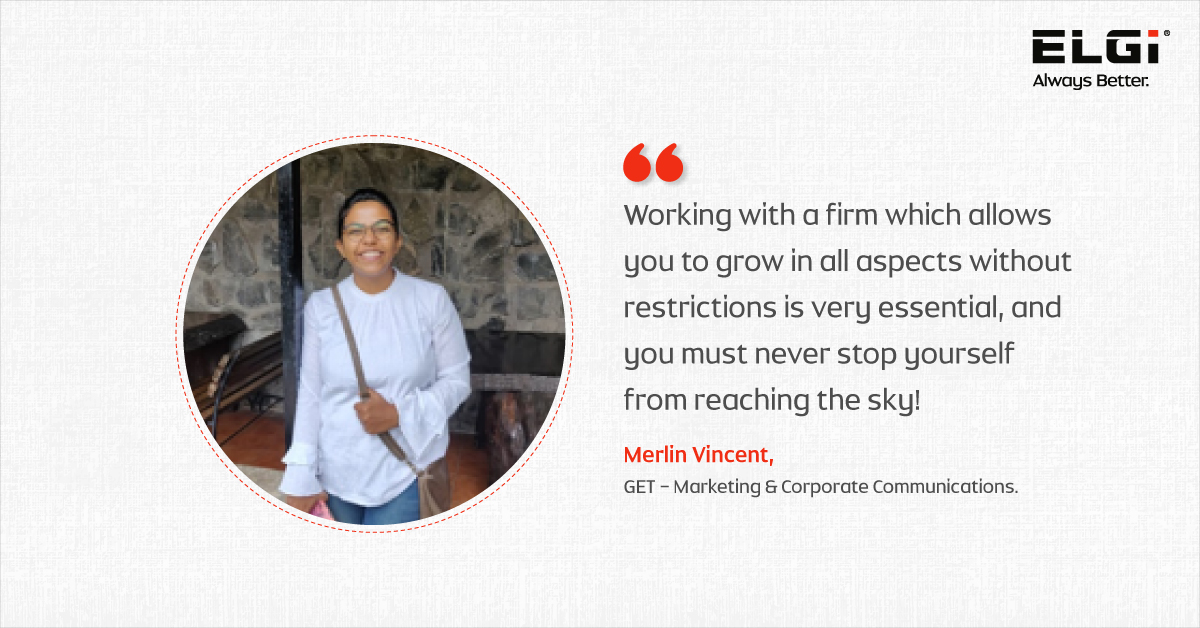 "I'm Merlin Vincent, GET – Marketing & Corporate Communications. My role focuses on studying business opportunities, looking for prospective clients and reaching out to key decision makers and influencers.
My advice to young women is to never limit yourself! Working with a firm which allows you to grow in all aspects without restrictions is very essential, and you must never stop yourself from reaching the sky!
ELGi has given me tremendous industrial exposure. Working with ELGi, I was able to understand the systems and processes involved in various other types of industry thus giving an opportunity to learn something new every single day!"
"I am Gayathri G, an Executive Secretary at ELGi and I work closely with the MD, delivering business objectives and connecting with people. For a woman; when the contribution, comfort, concern and compassion learned at home is extended and used effectively in the engineering industry, she need not strive hard to taste success, and for me, ELGi gives opportunity to promote these qualities!
In my 15-year experience at ELGi, I have adored ELGi's work culture and work-life balance along with transparency, trust, fairness, care and understanding, extended by my colleagues and management that is certainly #AlwaysBetter for me!"
"My name is Anya Geraldine D'Souza and I head Marketing and Corporate Communications at ELGi. My advice to women contemplating a career with a manufacturing organization is simply a) Work hard. If you put in the energy and the effort you will see the results, b) Trust is earned – always communicate your honesty and reliability, and finally, c) Don't be afraid to be different – be bold enough to share your ideas and solutions, for fresh thinking is critical to growth and innovation. What makes ELGi #AlwaysBetter for me, is our goal oriented, purpose-driven culture that permits each of us to bring our authentic selves to the table, resulting in meaningful relationships, learning and a sense of belonging and fulfilment, every day."
Thank you to all you wonderful women for helping us build an inclusive workplace, spreading the message of change and sharing your experiences to help shape a positive social and cultural attitude at work, every day.
Happy Women's Day, from all of us at ELGi!
To contribute write to us at

[email protected]