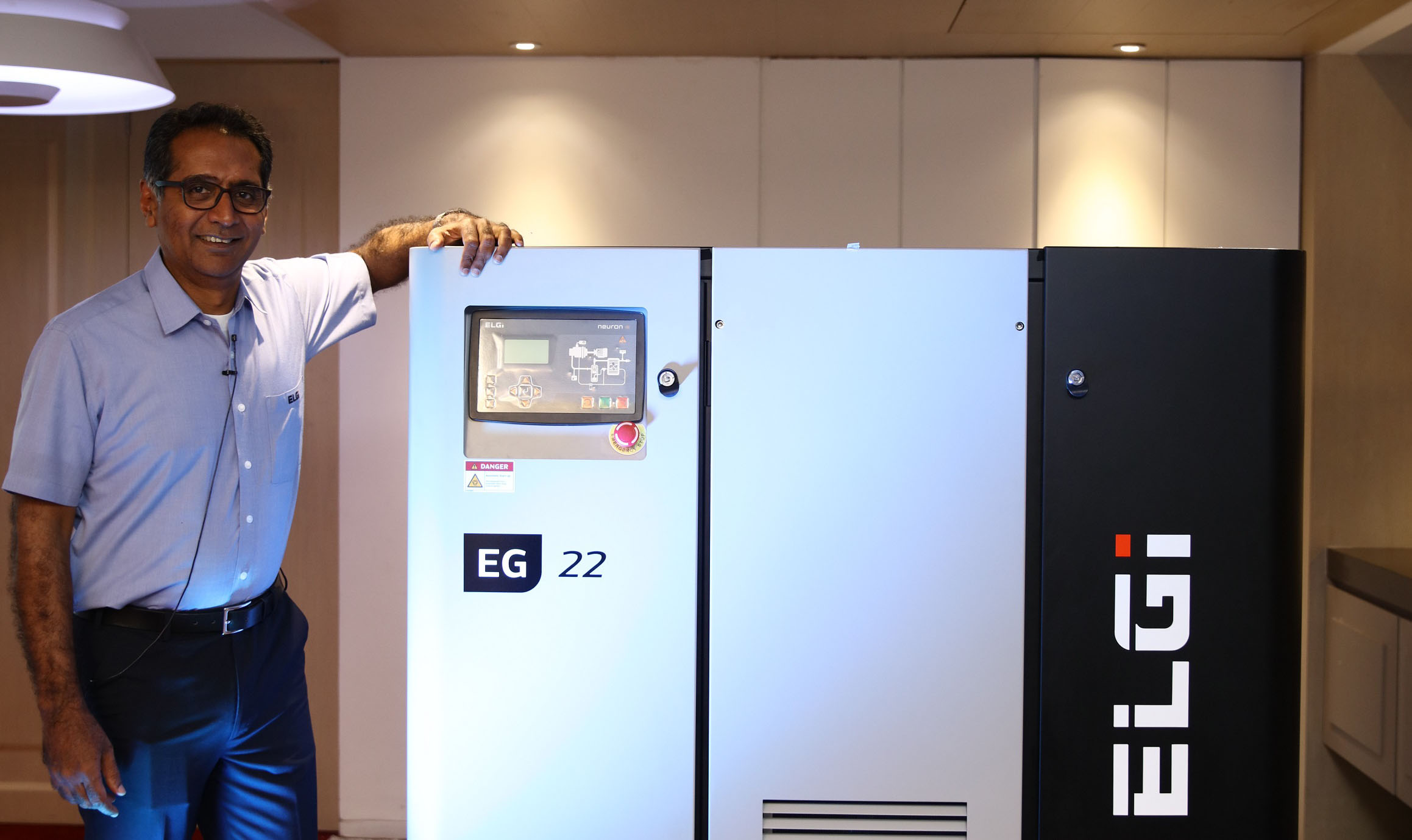 On June 7th, 2017, ELGi held a press conference to announce the company's audacious goal: to become World No. 2 in the global air compressor market by 2027.
The company also unveiled its new brand identity, incorporating a dynamic logo and new color scheme for its entire product range.
The mission, codenamed 'CK2' or 'Conquer K2' — K2 being the second tallest peak in the world and believed to be the most difficult to climb — symbolizes ELGi's collective aspiration to be leaders in the compressed air business. The company has a coherent strategy and aggressive growth plans to achieve their targets.
In talks with The Hindu, Dr. Jairam Varadaraj, Managing Director at Elgi Equipments Ltd. explained: "In the last eight years, we have posted compound annual growth rate of 14.3% against the industry growth rate of 2.5-3%. If we have to achieve the aspirational level, we have to clock CAGR of 28%. It is not going to come through organic growth. We have to achieve this through inorganic growth too. We have the product, process, people and technology to achieve this."
ELGi is backing this plan by identifying target companies, mostly distributors in EU and the US — the dominant air compressor markets with a combined global share of 60%. Speaking to Times of India, Dr. Jairam Varadaraj elaborated: "We have identified 25 companies/distributors in these two markets. It is a funnel approach. We will pick some and proceed." According to the Managing Director, ELGi aims to chart a hockey stick growth path with a near term target of achieving $1 billion in five years. The company closed the last fiscal year with revenues of nearly $230 million.
ELGi is bullish in the R&D department, taking the innovation route to best global leaders in the compressed air business. The company offers products that are energy efficient, oil free and with an increased uptime reliability. ELGi has always focused on strengthening its attention on indigenous technology, developing newer and better solutions in the industry.
Commenting on this aspect, Dr. Jairam Varadaraj said, "ELGi as a brand that is over 50+ years, has constantly evolved as a global leader in providing complete range of compressed air solutions leaving behind satisfied customers across all industrial verticals. Air-Compressors are the "life source of all industries" and the need will never diminish. With our best-in-class lifecycle cost driven by low specific power consumption and maintenance cost, we strive to run all manufacturing facilities across the world with ELGi compressors."
With clear near-term and future goals, the next chapter in ELGi's history appears more than promising. The company's bold move stands testament to its new brand mantra — 'Always Better'.
You can now see ELGi's newest range of products with revamped branding here:
Sources:
http://www.thehindu.com/business/Industry/elgi-eyes-mas-for-market-share/article18788218.ece?utm_source=RSS_Feed&utm_medium=RSS&utm_campaign=RSS_Syndication
http://thehindubusinessline.com/companies/elgi-equipment/article9722234.ece
http://timesofindia.com/business/india-business/elgi-equipments-chalks-ambitious-growth-path/articleshow/59042986.cms
To contribute write to us at

[email protected]