In fond memory of Pandit Jawaharlal Nehru, whose birth anniversary is celebrated as Children's Day we bring you stories of three students currently enrolled at the ELGi Vocational Training School in Coimbatore.
A fulfilling childhood enriched with fond memories, impactful lessons, supportive mentors and a chance to dream. That is the endeavor of the ELGi vocational training school in Coimbatore.
ELGi's programs around creating well-rounded individuals, through meaningful and active community engagement, draws parallels to Nehru's legacy of education and development for the children of today, both promoting positive social change.
We sat with a few students from the ELGi vocational training school, located in Singarampalayam, on the outskirts of Coimbatore.
These three students from the school have spent three years at the expansive campus. The ELGi vocational school campus is spread across 18,000 sq ft with provisions of multimedia classrooms and a training centre with a fitting shop, machining, welding and electrical work.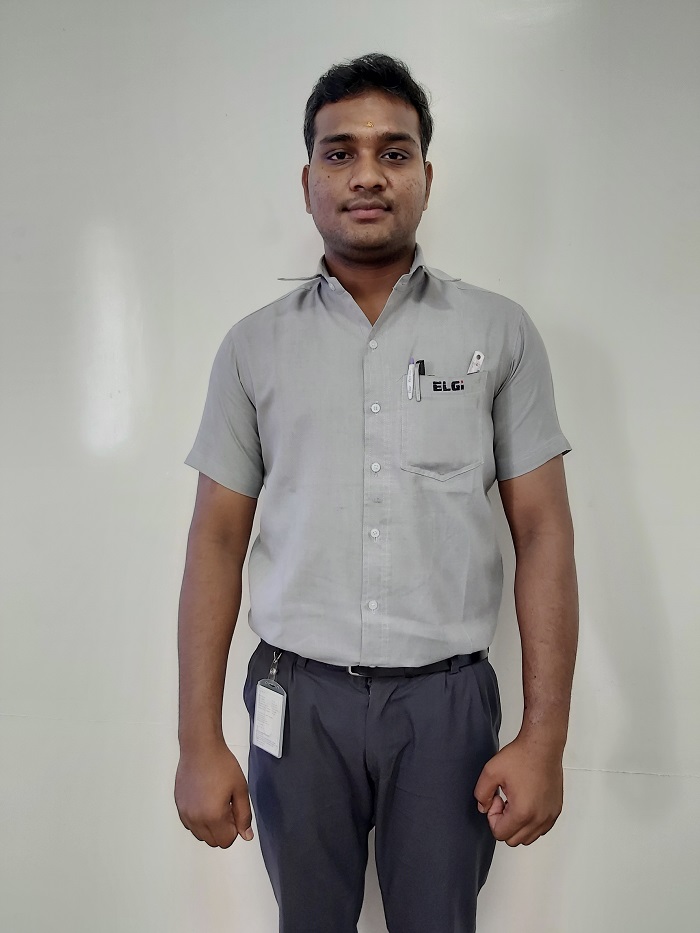 Our first student is Gokulakrishnan. He comes from a small town in Oddanchatram and lives with his parents and two sisters, Pavithra and Mahalakshmi. His father, who works as a cashier in a hotel, suffered from a heart attack a few years ago and had to undergo surgery, following which, Gokulakrishnan dropped out of the 12th grade to work in a grocery shop and support his family.
Gokulakrishnan was fascinated with the extensive mechanisation and the sheer scale of manufacturing at ELGi. For his humble beginnings, with limited possessions, Gokulakrishnan had dreams to go beyond and take advantage of every opportunity.
"I am the elder sibling and have to support the family," says answered Gokulakrishnan,
"At ELGi training school, the trainers teach very well. Whenever they saw any of us stressed or upset, they took the time to talk to us, advise us on personal and professional issues, and always had us back to track," said Gokulakrishnan.
In his final year, Gokulakrishnan, along with his batch mates, were given a chance to visit ELGi factory and understand the automation behind every process. Students are given responsibilities to take up projects and apply Kaizen principles. Two years of theoretical knowledge and training is put to use under the supervision of the professional trainers at the factory.
While this experience has been overwhelming for Gokulakrishnan, professionally, he has observed a complete overhaul in his lifestyle. He now takes his time to groom himself, looks presentable and speaks with confidence.
So, where does he go from here? "I wish to run my family and make sure my sister gets married," says Gokulakrishnan. "My life has changed after ELGi. Thank you very much, ELGi!"
Brinkans Anto from Marthandam, Kanyakumari has completed his 10th year of schooling. Although he was keen to continue with his studies, he had to take a job to support his family. While Brinkans was engaged with car painting and tinkering work, he came across an opportunity at ELGi and decided to try it out.
At the ELGi training school, specialised knowledge and skills are designed to enable students towards a career path. This training is also supported with practical demonstrations and project responsibilities.
"If we study about a machine, we learn more about it in the practicals for the next half day." This makes it easy for us to understand." Focused learning is key to our training, and in the subsequent years, students are exposed to a factory setting to familiarise themselves with components, processes and functions.
By the time of his final assessment, Brinkans would have worked in the factory long enough to understand the complexities behind each process, the intricacies involved in seeing a product through its completion and would have no qualms about taking up additional responsibility.
Brinkans' drive and passion for making something of his future, coupled with extensive training and skill development at ELGi have helped him improve his family situation and encourage his sister to study.
"If I am confirmed with this job, I wish to own a house, car and bike and enjoy life happily with my parents," says Brinkans as he signs off.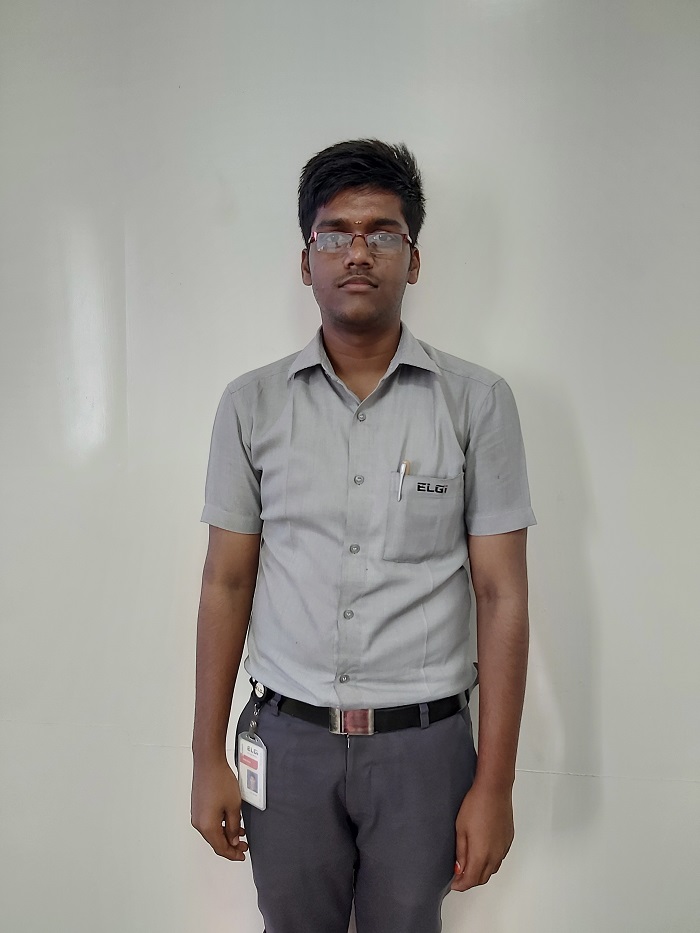 Sampath. M had just completed his 10th year of schooling and was keen on taking up a job to add to the family's income. After hearing about the opportunity at ELGi, Sampath decided to give it a shot and applied for the training.
Sampath cleared his interview and was first enrolled in the school before he began the training at ELGi.
"It was a practice that in the first half of the day there would be studies, and in the second half of the day, there would be practical classes. I liked it very much," says Sampath who was initially intimidated by the professors at the school. However, he channelled his fear into his training, and soon his inhibitions started to wear off.
After an excellent performance in his first year, Sampath found the second year to be challenging and more fun! He was sent for all India training where he experienced the functioning of a factory, first-hand.
"I learned about the things we do with compressors, sequence-wise, from beginning to end. I also learned what we are doing at ELGi," explained Sampath, who finally felt an understanding of the brand, the things that are created and the importance of making them indigenously.
In his final year, Sampath was given ownership of a project, where he had access to every department and its machines. Although it was terrifying at first, Sampath drew from all the advice received over the years, while also being suitably guided by his trainers.
"After completing the training and receiving my confirmation for the job, I wish to construct a house for my family and keep them happy," says Sampath who is confident of a definite career path, here on.
The ELGi vocational training programme is a perfect example of how skill development can open new doors for youngsters from underprivileged backgrounds.
Not only does the programme focus on imparting technical knowledge and on-the-job skills, but also the ELGi values to help students become well-rounded professionals. #AlwaysBetter
To contribute write to us at

[email protected]