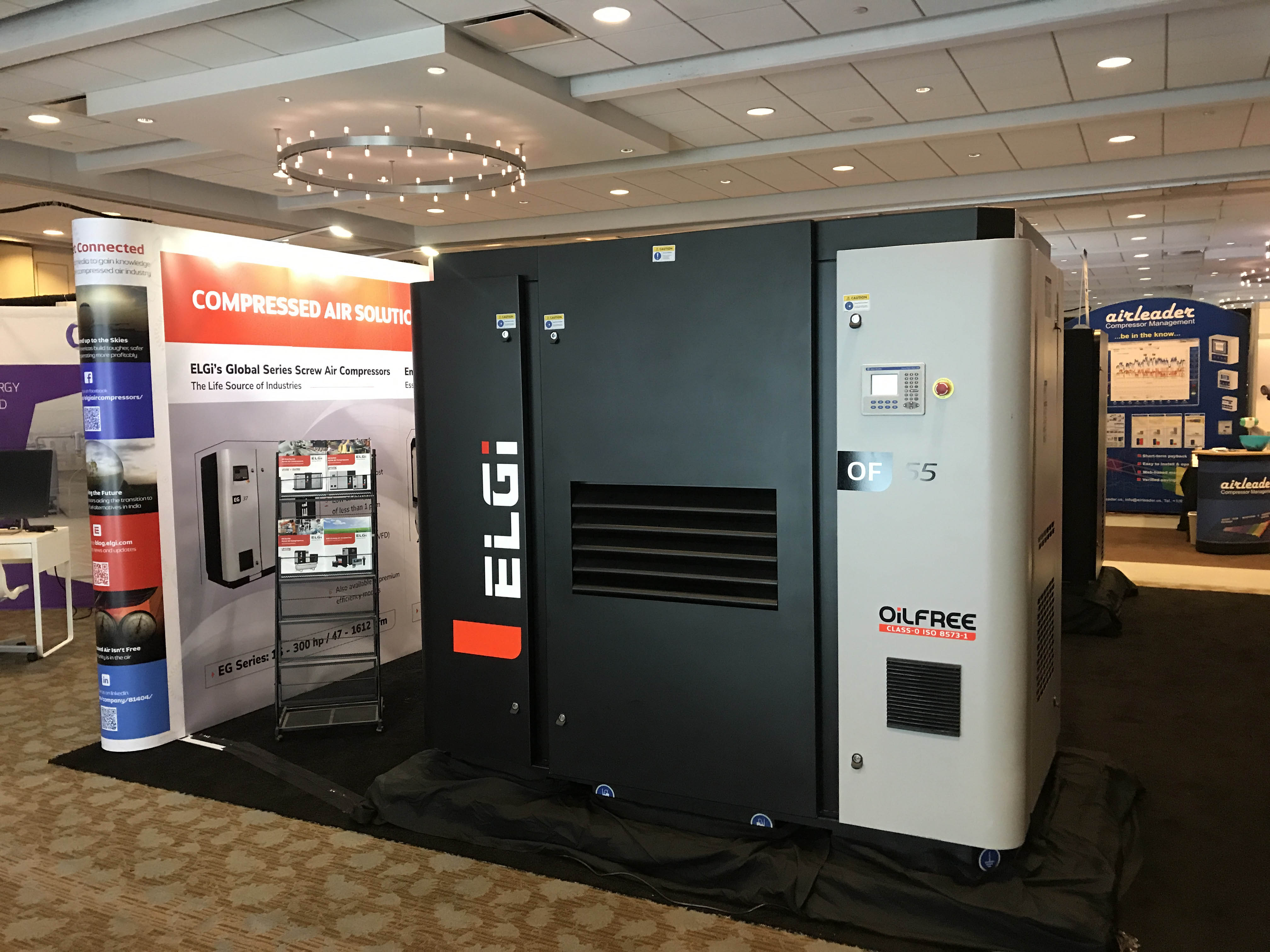 The recently concluded Compressed Air Best Practices (CABP) Conference in Chicago represented two firsts – the inaugural conference and the launch of ELGi's oil-free range. While the conference hosted many vendors and users of compressed air, ELGi garnered much attention for the launch of its new oil-free screw compressor range. This will help extend ELGi's reputation as a reliable and service-led brand ever evolving for the customers of compressed air across industries.
With a mission of 'Creating Industrial Energy Savings Through Compressed Air', the CABP magazine aggregates and presents content on methods to optimize compressed air usage, industry news, and application profiles. The conference aimed to bridge the gap between the suppliers and users of compressed air by introducing the users to best practices. The organizers hosted a fair with multiple vendor stalls and expert breakout sessions.
ELGi displayed its products with site experts engaging customers and distributors. Breakout sessions focused on customer case studies and expert recommendations. Leslie Marshall of General Mills, a large food manufacturer, spoke about the challenges of raising awareness on the true cost of compressed air leaks within a factory.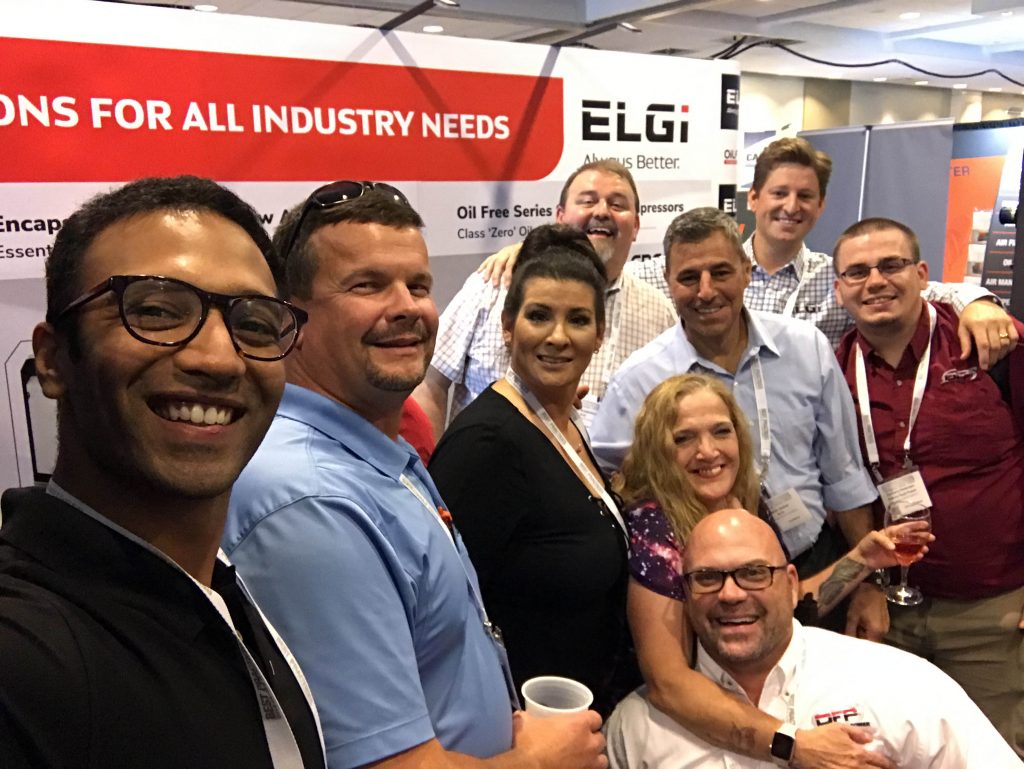 The Compressed Air Challenge, a collaboration between manufacturers, distributors, and industry professionals, had experts who presented various techniques to improve compressed air usage, ranging from better training to improved system management.
Though small, relative to the lubricated screw compressor segment, oil-free compressors are growing in prominence owing to environmental and clean air considerations. In traditional oil flooded compressors, oil works like a lubricant, sealant and coolant. As a result, the discharged air consists of minute amounts of oil, which is unacceptable to sensitive industries such as food and beverage and pharmaceutical manufacturing. Oil-free compressors produce oil-free air, as it has no oil in the compression chamber.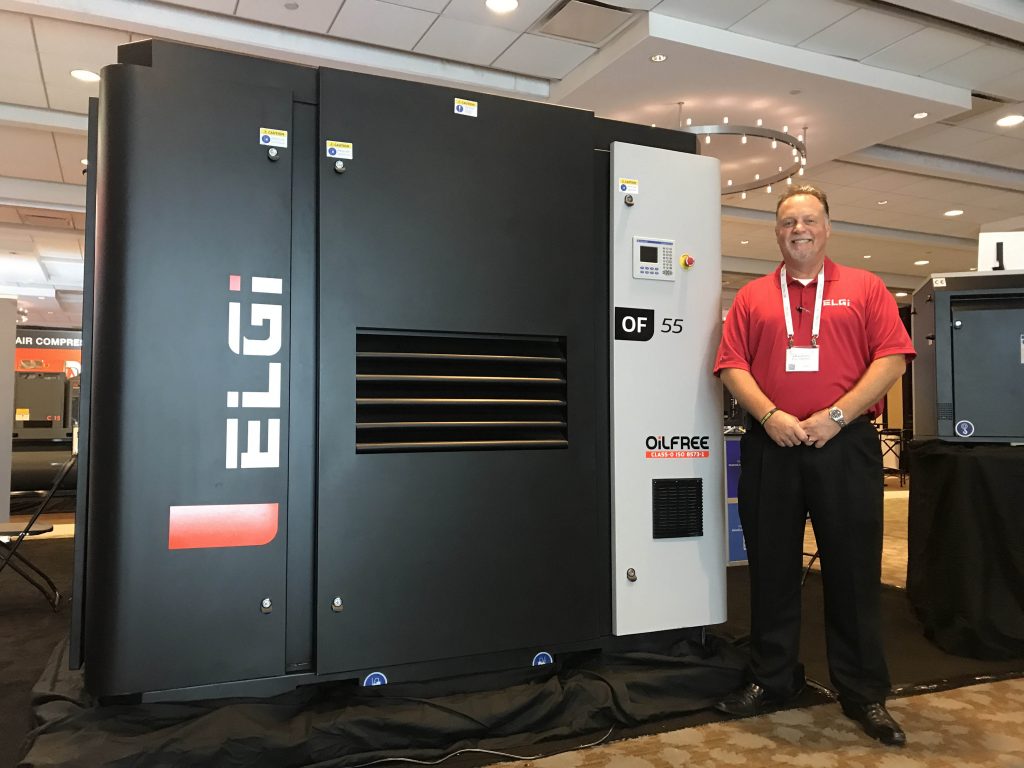 ELGi launched its smaller horsepower oil-free range at the CABP conference. ELGi is one of five companies in the world with a proprietary oil-free airend design. An airend is the compression chamber or heart of a screw compressor where a volume of air is compressed to a required pressure. ELGi's new oil-free range offers machines between 60 horsepower and 100 horsepower with 7 and 8.8 Bar pressure options. The air-cooled design will ensure ease of installation, while the aluminum coolers will guarantee efficient cooling. High efficiency NEMA motors power the machines with separate ducting for noise reduction. The new models are supported by ELGi's class leading four-year airend warranty and a strong service network. ELGi's new product series expands the range from 60 to 500 horsepower. The models added will ensure that ELGi is able to service all oil-free air needs in the USA market.
ELGi looks forward to growing internationally while reiterating its commitment to enable energy-efficient compressed air solutions that meet high air purity standards.
Read more about ELGi's oil-free compressed air solutions here.
To contribute write to us at

[email protected]