In a country riding on aspirations, the two-wheeler has played a remarkable role in steering India towards progress — a means of transport that keeps the rising middle class on the move. With 17.7 million units sold in 2016-17, India has overtaken China to become the world's biggest market for two-wheelers. Competition in the industry is hotting up as top players across the globe move aggressively to get their share of the pie.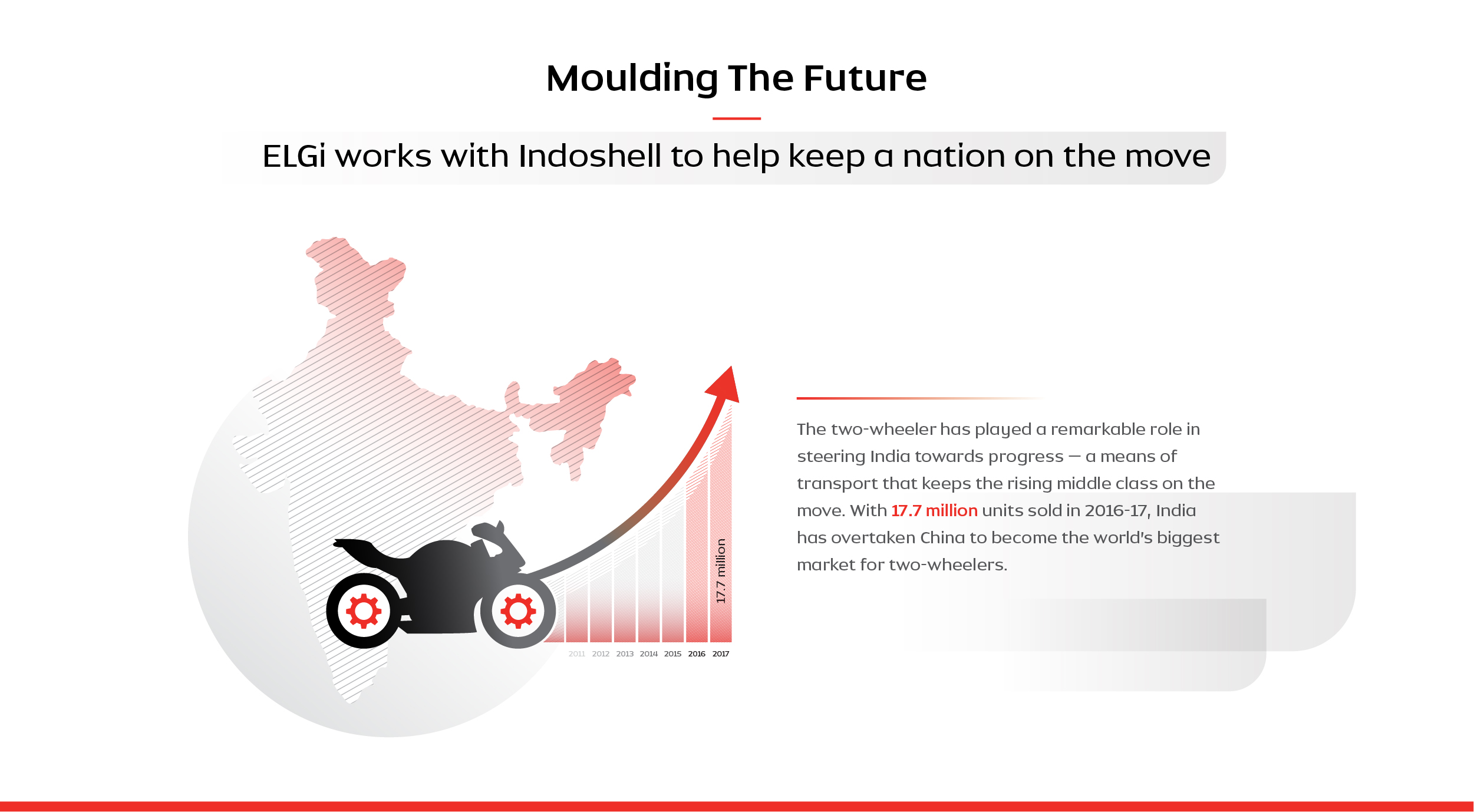 Manufacturers for automobile components in India are feeling the heat from the two-wheeler sector. "To put this into perspective, even the difference of one rupee in the cost of an automobile part could mean millions for an OEM. With operational costs increasing by the day, offering the best quality at competitive prices is more challenging than ever," says Mr. Jaypal, head of the Project and Maintenance department at Indoshell.
Indoshell Mould Limited is a leading manufacturer of precision components for two wheelers. Over fifty years, the company has built an indisputable reputation worldwide for producing top quality engine blocks at competitive prices. Indoshell produces over 3000 tonnes of metal castings in a month with eight manufacturing plants constantly at work.
The company's state-of-the-art manufacturing plants are fully automated with a number of processes heavily reliant on compressed air. Mr. Jaypal elaborates: "We use a high precision casting technique called 'shell moulding' to produce engine blocks with impeccable dimensional accuracy. Compressed air for us is like oxygen in an ICU unit — it's integral for powering the core manufacturing process. I can't possibly overstate the criticality here. The engine block is the main housing of the combustion engine in the two-wheeler. It needs to be durable enough to withstand extremely high temperatures and pressure. Any defect can drastically affect the strength, resulting in failure of the engine. There is simply no room for error."
Since 1992, Indoshell has relied on ELGi for compressed air solutions. The ELGi team has helped ensure optimal operations with reliable supply of compressed air. Commenting on the service aspect, Mr Jaypal recounts his experience working with ELGi machines: "In my nine years of working with Indoshell, there has never been a breakdown. Especially in critical situations such as sudden short-circuit failures at odd hours of the night, the ELGi team has been available. It's reassuring to have that support at all times. There was an instance when we had to airlift our stock of 5000 engine blocks to a leading two-wheeler OEM. ELGi's support was instrumental in helping us deliver on time."
In 2015, ELGi made a value proposition to Indoshell that could potentially save 1.4 million dollars in annual energy costs. Mr Jaypal comments: "The ELGi team suggested it was time for an overhaul. At the time, ELGi's Horizon Series were installed at five of our plants. They did a comprehensive analysis of our energy usage and came back with a proposition, backed by compelling numbers. The proposal by ELGi included reports that ensured ROI in less than 2 years." (Download full report here)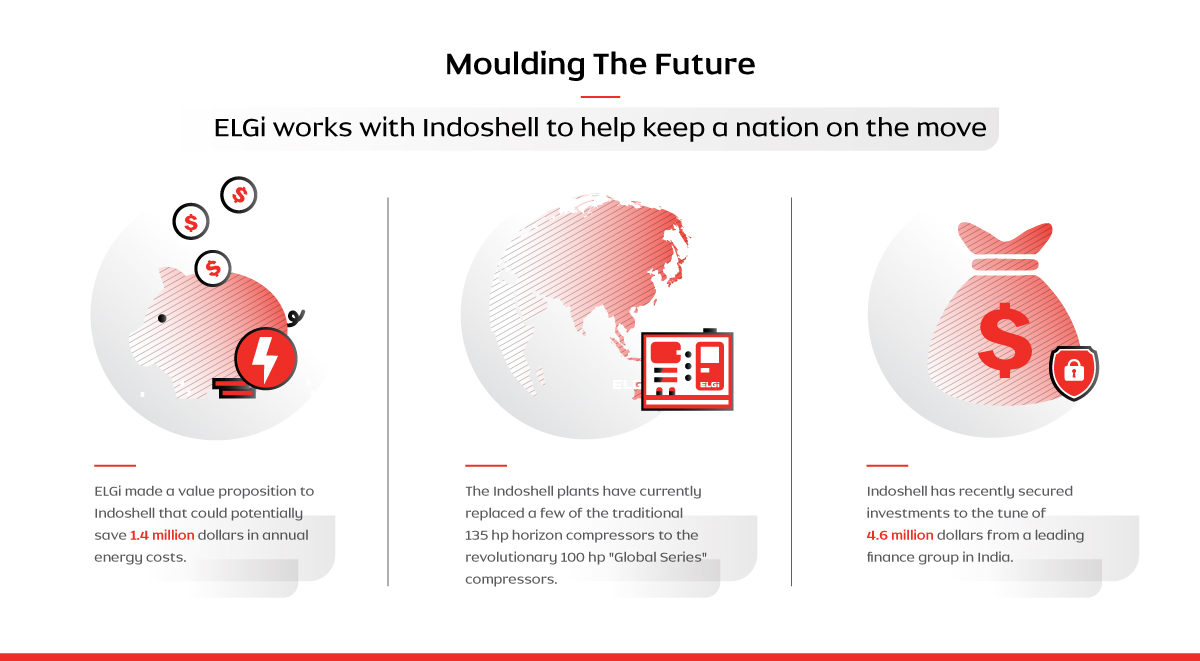 The Indoshell plants have currently replaced a few of the traditional 135 HP horizon compressors to the revolutionary 100 HP "Global Series" compressors. "We're extremely happy with the performance. The compressors are running more efficiently with less energy consumption. We're already reaping the benefits of our investment, particularly at a time when we must do everything in our capacity to keep operational costs down."
Indoshell has recently secured investments to the tune of 4.6 million dollars from a leading finance group in India. This has helped the company solve cash flow mismatch and enabled the plants to meet demands from two wheeler OEMs. In addition, the company is now well placed to cater to export clients in the commercial vehicle segment through a new export oriented facility near Coimbatore.
With a clientele including leading brands such as Hero, Honda and TVS, Indoshell is on a mission to provide supreme quality components for two-wheelers at the lowest cost with zero defect, zero wastage and zero breakdown. ELGi, as always, is working behind the scenes, innovating better and more profitable energy solutions. After all, a lot is riding on this.
Sources:
http://www.business-standard.com/content/b2b-manufacturing-industry/piramal-finance-invests-rs-565-in-two-auto-component-companies-117053001341_1.html
http://economictimes.indiatimes.com/industry/auto/india-overtakes-china-to-become-the-worlds-largest-two-wheeler-market/india-rides-ahead-of-china/slideshow/58558156.cms
http://newengineeringpractice.blogspot.in/2011/08/engine-block-manufacturing-process.html
To contribute write to us at

[email protected]