ELGi's campaign #WhatsYourFinishLine kicked off, last week of August in the form of an exciting fitness challenge. Participants were motivated to shed their inhibitions around exercise, take up one fitness activity every week, beat their earlier scores and tag their friends and family to join in.
Open to all ELGians, partners, suppliers, distributors and stakeholders worldwide, #WhatsYourFinishLine became an exciting team activity! From de-stressing at the nearest park, training at the gym together, counting calories to sharing milestones with the world on social platforms. We witnessed interesting face-offs and learnt so much about our body & mind, along with the importance of staying active.
The #WhatsYourFinishLine campaign was part of our association with the Coimbatore Marathon held on 6th October in Coimbatore, and the Susan G. Komen's Race for the Cure held on 5th October in Charlotte USA. By sponsoring these events, ELGi reaffirmed its commitment to the cause of cancer awareness and prevention.
The senior management team from ELGi North America, Coimbatore and UAE, led the front, sharing anecdotes, tips and inspiring messages to drive the fitness campaign across all branches of ELGi.
We received media coverage across national and regional newspapers and magazines, reaffirming ELGi's commitment in support of cancer awareness and prevention.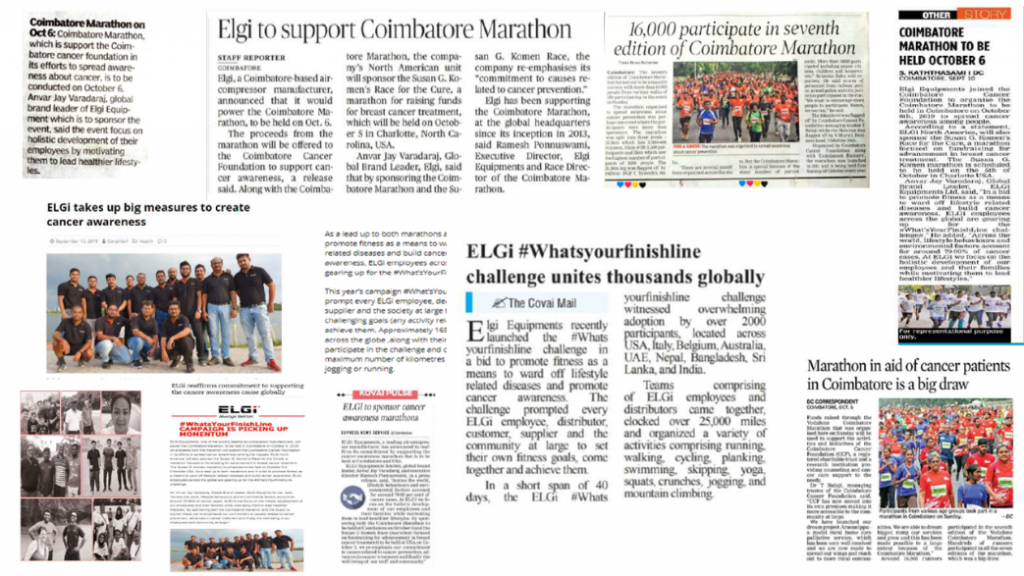 With messages of support pouring in, all our ELGi offices became hubs of fitness banter.
Running, jogging, cycling, weights, swimming, treks, planks and more; our team's fitness knew no bounds!
They actively participated in organized team outings and activities and our social media channels.
Training and stretching your limits for a globally recognized 10 km marathon is no mean feat, and the participants likened the #WhatsYourFinishLine challenge with every marathon and obstacle ahead of them.
From setting the stopwatch to 45 minutes of exercise a day to eating right and healthy – the challenge helped write inspiring fitness stories worldwide!
While the campaign saw worldwide participation and piqued the interest of the fitness world, here are some of the key highlights, insights and achievements from the ELGi #WhatsYourFinishLine challenge 2019.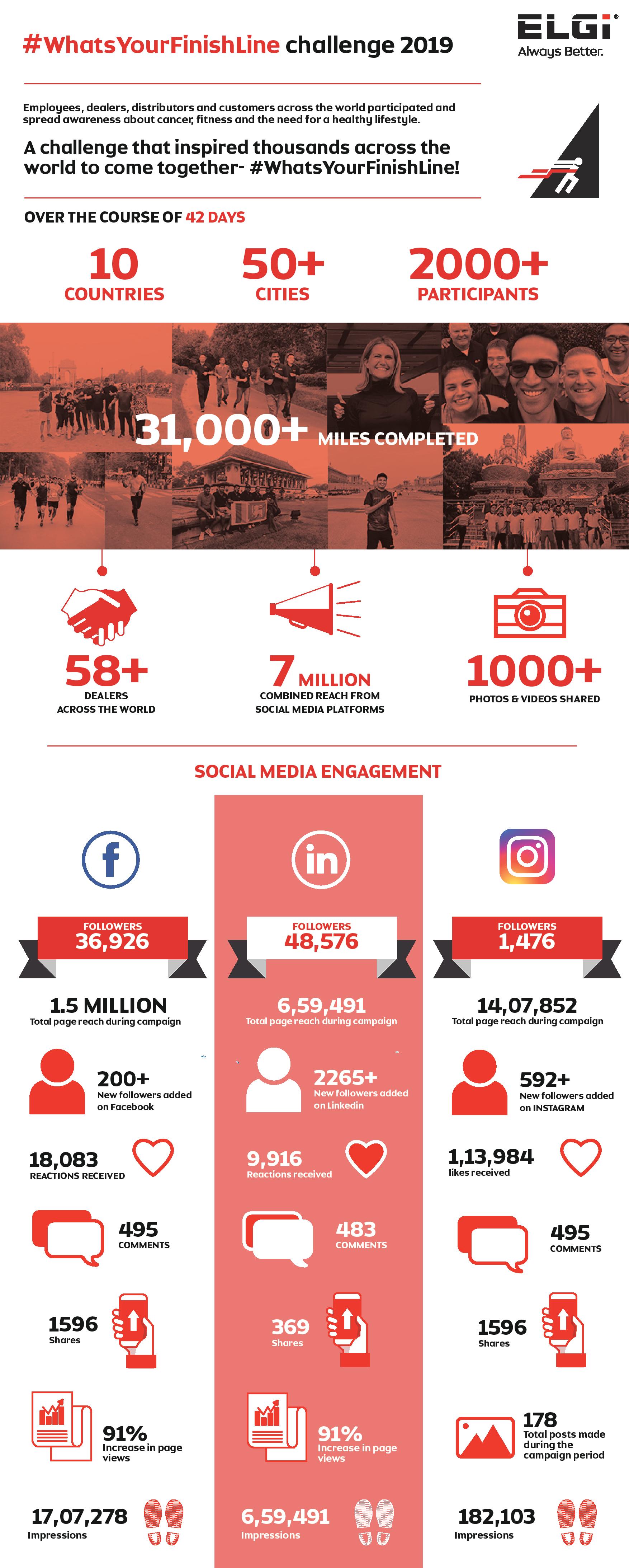 While we continue to campaign for cancer awareness, we are hopeful to have inspired and driven change in your lifestyle choices, because it is never too late to switch to a better life.
To contribute write to us at

[email protected]