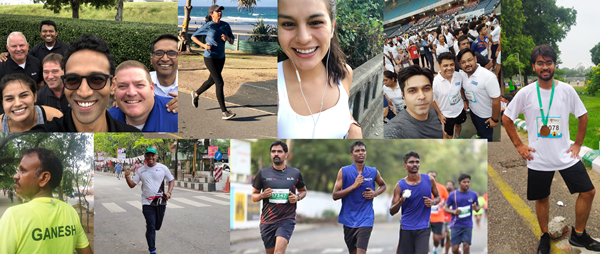 ELGi Champions!
Inspiring fitness stories of ELGians from around the world.
All of us are running, hustling every day to meet targets, challenge our monotonous routines and break out of our comfort zones. However, in our bid to stand out of the crowd, are we falling into the endless loop of competition and fitness?
ELGi's philosophy of #AlwaysBetter is deeply rooted in the values of the organization. We believe that constant growth, our products, our people and our mission is central to our objective of reaching our finish lines (read milestones).
Over the years, ELGi has extended support to the cause of good health and well-being, by partnering with Coimbatore Marathon, all proceeds of which support the Coimbatore Cancer Foundation in its efforts to spread cancer awareness among the masses. This year, ELGi North America is also sponsoring the Susan G. Komen's Race for the Cure; a marathon focused on fundraising for advancement in breast cancer treatment. By sponsoring both Coimbatore Marathon and the Susan G. Komen Race, we re-emphasize our commitment to causes related to cancer prevention, advances in cancer treatment and finally the well-being of our employees and the community at large.  Our sponsorship in these marathons has constantly been inspiring change and participation from all over the world. This year we went that extra mile and encouraged all our stakeholders who are directly or indirectly associated with ELGi with the #WhatsYourFinishLine campaign.
As part of the challenge, weekly targets were presented before the participants. We saw exciting face-offs between teams and discovered the versatility in fitness, never once forgetting that at the end of the day, we must have fun!
Meet some of the inspiring participants of the #WhatsYourFinishLine challenge.
Alexandra Moreno only recently started running again, after an injury last year.
While she has always been active, she took up yoga and started working on her overall well-being, the past year. With the constant support and encouragement from her team (ELGi USA), and through regular walks and running post-work, she decided to take up the #WhatsYourFinishLine challenge! Treating herself to chocolate and ice-cream every other week, this fitness enthusiast is all set for the Susan G Komen marathon scheduled for 5th October in North Carolina.
Speaking about the challenge, Alex says that it's important to step outside and look around. Sometimes you may find yourself running from a neighborhood dog, but most times, you'd be happy that you took the initiative, conquered your fears and embraced a new you.
ELGi Delhi's SPOC, Vishal Sharma had two challenges ahead of him.
While the first was outdoing his personal best every week, the second and more challenging of the two was spreading the word among his colleagues and encouraging them to participate. What followed was weeks of reading about the benefits of fitness, sharing tips to overcome fatigue, ideas on activities and routines to pick up, while at the same time living up to the competition from around the world!
"I had to be good enough to share my entry for the challenge." says Vishal, who found inspiration in the teams and individuals who started putting up their impressive achievements of the #WhatsYourFinishLine challenge. For someone who had been into weight-training before the one-month challenge, Vishal can now cover 5-6km in under 30 minutes! Be sure to find Vishal at subsequent marathons in Coimbatore and globally.
"If you overcome those first 10 minutes when your body says NO, then you are unstoppable!" shares Gaurav Luthra from ELGi Delhi.
Growing up, Gaurav had weight-issues. Although he picked up running in college, he still had a long way to go to build his confidence and strength. This inspiration came from his uncle, who was strict about his fitness routine. Push-ups, weights, burpees, all seemed impossible until Gaurav began following a structured plan to get fit.
"Constantly improving upon yourself is key; otherwise you are out of the race." shares Gaurav who has become conscious about his choices. Today, from close to zero indulgences when it comes to cheat foods, Gaurav set a goal to complete 21 km at India Gate, Delhi. Amidst the cheering of his supportive team, Gaurav achieved his target and is proud to share his story with everyone today.
Anvar Varadaraj has always been into fitness, since he can remember.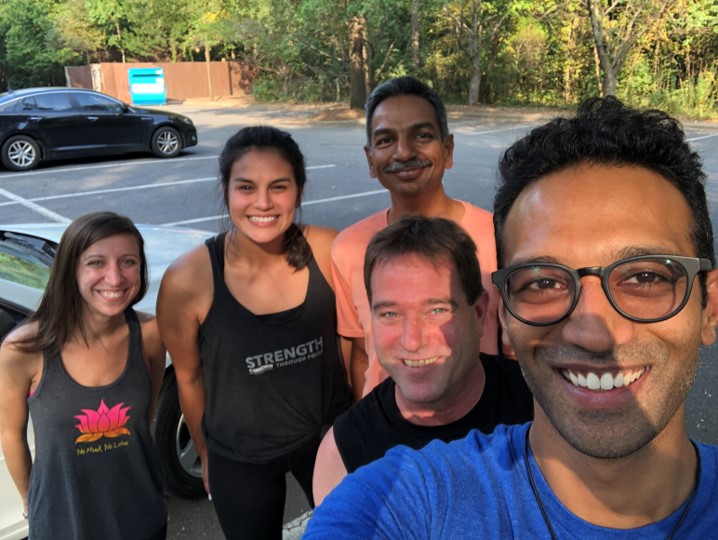 Sports was encouraged back home, and Anvar found keen interest in cricket and tennis. Even after moving to America, Anvar continued to hone his passion for sports and makes it a point to play a game of tennis at least once a week.
Anvar never wanted to settle into the stereotype of the average Indian-born businessman who begins to tire and stress after he turns 45.
"Not attaching consequence to fitness, there will be days you don't feel like engaging in strenuous physical activity, and it is okay. Embrace it! Convince your mind and half your work is done!"
Now, having integrated fitness into his daily routine, Anvar is up for every marathon in life. He also shares an amusing incident from last year's Coimbatore Marathon.
Anvar made an ambitious food choice the night before race day. It turns out; it didn't agree with his stomach and half-way through the run, he found himself looking for restrooms. He hopped onto a marshal's bike and to the nearest ride straight home. He had technically made a commitment to complete this marathon, and after much debate, Anvar went back to the race venue and took off again right from the point where he was picked up, completing the race that very day!
Pranabesh Kunti from ELGi Kolkata loves to run!
Referring to it as a 'cost-effective' activity, Pranabesh feels that when it comes to running, you put on your shoes each morning and go.
Closely associated with the Kolkata Runners Club, Pranbesh interacts with so many runners each day. Some are disabled, others old and there are visually challenged runners as well, he shares.
There was a time when he had taken a break from running due to his professional commitments. But today, he has pledged never to stop, heading out even on rainy days, sometimes enjoying a moment by himself doing a little jig.
Versatile in his interests, Pranabesh always keeps himself busy. If not a run, then kabaddi, outdoor games, meditation or music, he keeps himself busy with a sport if not a fitness routine.
Sathishkumar Chinnasamy from ELGi was a state-level hockey player, representing Tamil Nadu for two years!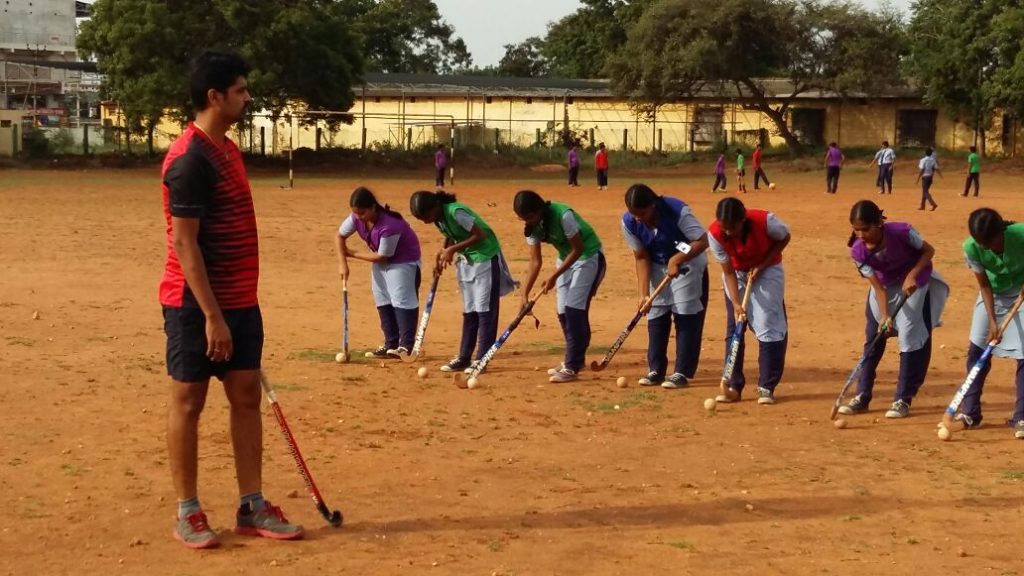 He always wanted to keep himself occupied, and although hockey took a back seat after he moved out of his hometown for work, in 2015, he got the opportunity to pick up the hockey stick after a gap of almost six years. This time, as a coach of the ELGi Matriculation Higher Secondary School.
Sathishkumar would organise summer coaching camps for interested students. Today, the school team competes at inter-school competitions across the city.
Imparting skills to others, is incredibly humbling and satisfying, for your legacy continues to live on! During the challenge, Sathish would continuously try and motivate himself. Knowing that he was never alone in this, was enough to push himself to run 5 to 10km each day.
We all must start somewhere, and Sathish feels that this challenge has provided the incentive to so many to begin taking their fitness seriously.
Come October, and Khyati Acharya drops anywhere between 3-4 kilograms every year!
Lucky month October? Probably. But every ELGi team member knows it's the time for the Coimbatore marathon! Khyati has always been fit and active. Before moving to Australia, India was her home, where she practised for 15 years. While she couldn't keep up with her yoga routine, Khyati turned to other fun activities like biking, running and brisk walking to stay active.
With the overwhelming participation from the world over, Khyati was inspired to continue the challenge after she had to reluctantly take a break because of food poisoning and the flu. However, Khyati kept herself updated through social media and was determined to get back and complete the challenge.
She participated in a 5k run organized in September and clocked a decent 36 minutes. But this was her real test. She knew she could do better!
Khyati ran 5km every day through the month, sometimes even running twice a day. Today, she has achieved her personal best of 26 minutes!
Ganeshmoorthy is a marathon veteran!
He takes down between 15km to 20km on the get-go, travelling to cities all over India covering up to 60km as part of the ultra-marathon run! Ganesh's story goes back to 2012, his first marathon. The Coimbatore Marathon, 2012, which he enrolled out of sheer curiosity. There was no stopping him after that.
Ganesh feels that his overall health has undergone drastic improvement. No flu, no fatigue and an optimistic approach to life. Of course, there are times where he questions it all, wondering if all the efforts were worth it. But the feeling of accomplishment at the end is worth running every marathon, no matter how hard the challenge is.
However, behind all this will power is the support of his family- a wife who was willing to help with his dietary requirements and two children running along with their father on weekends. Ganesh is all set for his international marathon debut in London, Dubai or Singapore. Till then, he will continue his strict regime of morning dry fruits, warm-up, running and a meticulous meal chart.
To all our participants of the challenge, we commend your efforts and applaud your spirit and passion. While this challenge may end, we hope you will continue to run, walk, exercise and keep making choices in the best interest of your well-being.
All the best!
To contribute write to us at

[email protected]